Quick, Cheap & Easy Seasoned Tomato Sauce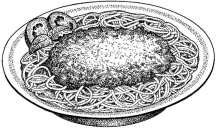 2 tablespoons oil
2 tablespoons dry onion
1/2 teaspoon garlic powder
12 oz can tomato paste
2 cans filled with water
1 teaspoon basil
1/4 teaspoon oregano (optional)
1 tablespoon sugar or honey
1 teaspoon salt
This sauce is so easy, so cheap and so good, you won't believe it. Heat the oil in a 2 quart size saucepan. Add the dried onion and garlic. Stir the onion and garlic around in the oil for about 30 seconds, or until they start to smell good. Add the tomato paste. Now fill the empty can with fresh water and add it to the pot. Do it again, so two cans of water have been added. Stir it all up until the sauce is smooth and thick. Add the seasonings. Cover and simmer for about 5 or 10 minutes depending on your time and fuel situation. After the flavors have mingled long enough to know each other better, you are done.
The uses for this sauce are endless. I use it anywhere I would usually use canned or jarred spaghetti sauce. For instance, on spaghetti, as the sauce for pizza, over leftover grains, in lasagna etc. This is a very versatile marianara sauce. If desired it can be prepared ahead of time, and refrigerated until needed. It keeps in the fridge for a week. For variety you can add a can of mushrooms, a spoonful of dry celery or green pepper, and even a can of chopped tomatoes or zucchini in tomato sauce, for chunky goodness. Use your imagination, this recipe is really just a starting point. Where you go with it, is up to you.
Disclosure: Some of the links below are affilate links, meaning, at no additional cost to you, I will earn a commission if you click through and make a purchase.