Pumpkin Soup Recipe
To me, fall doesn't start until I've made my first batch of this pumpkin soup recipe. Keep your PSL and give me a bowl of this soup any day of the week. You can use canned pumpkin for this or make your own pumpkin puree. Either way you end up with a delicious pot of soup. Add a slice of homemade bread fresh from the oven or bread maker and you're all set for a filling lunch or a simple weekday supper.
Even my husband who isn't a big pumpkin fan likes this simple soup. The addition of tomato tones down the earthy flavor of the pumpkin puree. Of course you are welcome to substitute your favorite squash puree or even sweet potato. Remember, this is your soup and you can tweak any recipe as needed to suit your and your family's taste buds.
Simple Pumpkin Soup Recipe
Ingredients
1/8 teaspoon pepper
1 teaspoon salt
2 cups milk
1 tablespoon all-purpose flour
2 chicken bouillon cubes
2 cups water
2 cups mashed cooked squash or pumpkin
1 can (8-1/4 oz.) tomatoes, diced
2 tablespoons butter or margarine
1 bay leaf
1/8 teaspoon thyme leaves
1 teaspoon parsley flakes
2 tablespoons onion, chopped
1/4 cup green pepper, chopped
Instructions
In a large saucepan melt butter and saute onion, green pepper, thyme, parsley, and bay leaf until tender but not browned. Next add the pumpkin, water, tomatoes and bouillon and bring to a boil. Reduce heat and simmer for 30 minutes, stirring occasionally. Combine milk and flour in a small mixing bowl then stir into the soup. Add the salt and pepper and cook soup over medium heat stirring often until it comes to a boil.
© 2023 Copyright www.HillbillyHousewife.com
For even more delicious homemade soup and stew recipes, don't miss this Kindle Cookbook: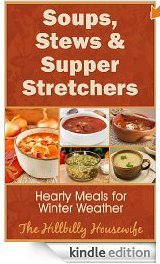 We all have favorite comfort foods that we make over and over to warm us up during cold weather. It's nice to have a few classic dishes to fall back on, but isn't it also fun to find new favorites?
That's exactly what you get in this fun little Kindle ebook – Soups, Stews, and Supper Stretchers
You'll find hearty, filling meals to make you feel cozy and warmer when the weather is gloomy, cold, and dark. Whether you're snowed in or it won't quit raining, these dishes will have you feeling brighter in no time.
Pick it up today and enjoy a warming bowl of comfort food anytime you try one of these recipes.
Soups, Stews and Supper Stretchers
Disclosure: Some of the links below are affilate links, meaning, at no additional cost to you, I will earn a commission if you click through and make a purchase.