Pumpkin Pudding
I don't have to be gluten free. But I make a pumpkin pudding that has the same ingredients as a pumpkin pie minus the pie crust. It is delicious warm or cold. I serve the pudding anytime of the year, but it is especially good on a cold night when it is served warm. I serve the pudding in a bowl because the dessert makes a sauce from the butter and brown sugar.
Pumpkin Pudding
2 TBSP soft butter
1/2 cup brown sugar
16 oz can pumpkin puree
3 eggs
2 cups whole milk or 12 oz can evaporated milk
1/2 cup granulated sugar
1 tsp cinnamon
1/2 tsp ginger
1/2 tsp nutmeg
1/2 tsp salt
1 tsp vanilla
Preheat oven to 350 degrees
Spread butter around the bottom and sides of a 1-1/2 quart baking dish. Sprinkle brown sugar over butter.
In a bowl mix together all other ingredients, blending well. Pour into prepared baking dish. Set dish in pan of hot water.
Bake for 1 hour till set.
Serve warm or cold with whipped cream.
Enjoy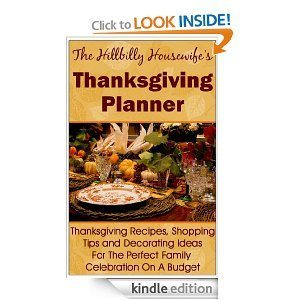 The Hillbilly Housewife Thanksgiving Planner
Don't run around like a chicken (or should that be turkey?) with its head cut off on Thanksgiving morning. The Hillbilly Housewife's Thanksgiving Planner will help you plan ahead and stay on top of things so you can actually enjoy Thanksgiving with your family & friends.
If you take a quick minute to read the first chapter you'll realize how easy your Thanksgiving celebration will be. There are plenty of tips and ideas to make sure this year's feast doesn't stretch your budget to the breaking point, too.
There are also 2 bonuses tucked inside: A printable planner & checklist and all of the recipes in a printable pdf file.
http://www.amazon.com/The-Hillbilly-Housewifes-Thanksgiving-Planner-ebook/dp/B00A81OQ56
Disclosure: Some of the links below are affilate links, meaning, at no additional cost to you, I will earn a commission if you click through and make a purchase.