Potato Leek Soup Recipe
My mom used to make a soup similar to this (without the spinach) but I never got around to getting her recipe. Instead I browsed through a few different online recipes and came up with this version which we love. I serve this with some homemade biscuits or a slice of sourdough bread fresh from the breadmaker. It's a perfect cold winter evening meal.
Potato Leek Soup Recipe
Prep time:
Cook time:
Total time:
Ingredients
2 tablespoons olive oil
2 carrots, peeled and chopped
2 stalks celery, chopped
2 medium onions, peeled and chopped
1 cup cauliflower, chopped
2 cloves garlic, grated or minced
2-3 leeks, cut lengthwise, then rinsed and sliced
4-5 medium potatoes, peeled and diced
7-8 cups of vegetable stock
A handful of spinach or other greens, chopped
Salt and pepper
Instructions
Heat the olive oil in a large pot over medium high heat. Add the carrots, celery, onions, cauliflower and garlic and stir to coat with oil. Jamie Oliver recommend putting the lid on askew and letting the ingredients cook for about 10 minutes this way.
Add the potatoes and soup stock and bring to a boil. Reduce heat to medium, put on the lid on the pot and cook for another 10 minutes.
Finally, add the spinach or greens and let cook for another 3 minutes or so, until they have softened. Season with salt and pepper and serve.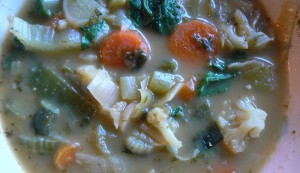 Disclosure: Some of the links below are affilate links, meaning, at no additional cost to you, I will earn a commission if you click through and make a purchase.