Pineapple Cookie Recipe
I am looking for a recipe for pineapple cookies my mom use to make. They were soft and had bits of pineapple in them, so delicious.

Since her and my grandma are now in a better place, I can't find anyone that knows how to make them.

Please help if you can.

Thanks, Rene
Do you have a recipe for pineapple cookies? Share it as a comment below.
From the Hillbilly Housewife.
I did some digging and a friend of mine has a recipe that sounds like it would fit the bill. Take a look below. I'm sure HBHW readers have some amazing recipes to share as well.
Soft Pineapple Cookies
Ingredients
1 cup shortening
1 cup brown sugar
1 cup white sugar
1 cup crushed pineapple, drained
1 teaspoon vanilla
2 eggs
1/2 teaspoon salt
1/2 teaspoon baking soda
4 cups all-purpose flour
2 teaspoons baking powder
Instructions
Preheat the oven to 350F.
Cream shortening and the sugars.
Add egg and pineapple.
Stir in vanilla.
Sift flour, then measure it.
To the flour, add salt, soda, and baking powder.
Add dry mixture to the wet mixture.
Drop by rounded tsps.
onto a lightly greased baking sheet.
Bake 10-12 minutes.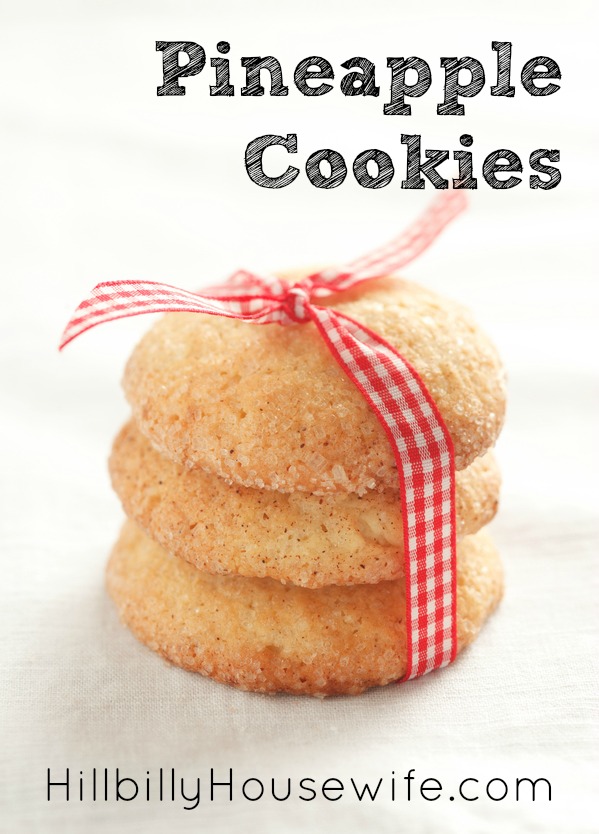 Disclosure: Some of the links below are affilate links, meaning, at no additional cost to you, I will earn a commission if you click through and make a purchase.