Pineapple Cherry Dump Cake Recipe
This is such a simple recipe, but "oh-so-yummy". It took my daughter and I about 10 minutes to put together. The hardest part was waiting for the cake to finish baking. About 10 minutes into the hour bake-time the house started to smell amazing. We had planned to make this for dessert after dinner, but ended up sampling it as soon as it came out of the oven. Careful if you do that … it is piping hot.
Here's what we did (the full recipes is at the end):
Preheat the oven to 350F. Grease a 9×13 baking dish.
Pour a can of cherry pie filling in the baking dish.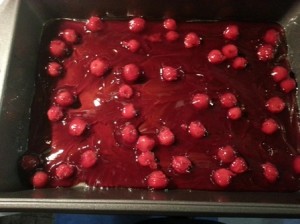 Open a can of crushed pineapple and pour it on top of the cherries.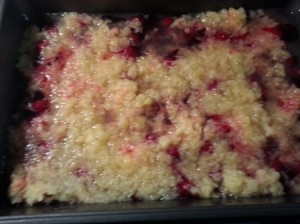 Sprinkle a yellow cake mix on top and smooth it out. Cut a stick of butter into slices and put them on top of the cake. I used 1 stick of butter and it wasn't quite enough. I think next time I'll use a stick and a half.
Bake for 60 minutes or until the cake is golden-brown on the top. Don't be alarmed if it bubbles and the crust moves during the baking process. It only looks like it's going to explode. Be warned … this smells amazing. We couldn't wait for it to be done.
Here's what ours looked like out of the oven.
Last but not least, here it is in the bowl… it looks so foggy because it was still piping hot which made for a nice photo effect.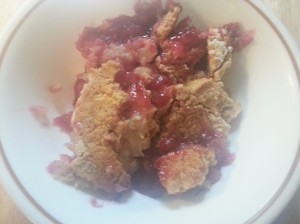 As promised, here's the full recipe:
Total time:
1 hour 10 mins
Ingredients
21 ounces pineapple, crushed
21 ounces cherry pie filling
1 package yellow cake mix
1.5 sticks of butter
Instructions
Preheat the oven to 350F.
Grease a 9×13 cake pan.
Pour the cherry pie filling in the cake pan and spread it out.
Pour the pineapples (juice and all) in the pan and spread them out as well.
Sprinkle (or dump) the cake mix over everything. Use a spoon to spread it out evenly.
Slice your butter and lay the pats (in neat little rows) on top of the cake.
Bake for 60 minutes.
I hope you'll enjoy this simple dessert as much as we have. For more delicious dump cake recipes, get a copy of my latest Kindle book. Inside you'll find plenty of recipes your family will love including:
Apple Dump Cake

Rich Pumpkin Dump Cake
Peach Dump Cake
Basic Dump Cake
Easy Dump Cake
Chocolate Cherry Dump Cake
Cherry Chocolate Coconut Dump Cake
Cherry Coconut Dump Cake
Chocolate Duncan Hines Dump Cake
German Chocolate Dump Cake
Chocolate Caramel Dump Cake
Apple Caramel Dump Cake
Apple Pecan Dump Cake
Spiced Apple Dump Cake
Blueberry Dump Cake
What a perfect way to make a simple dessert every one will love.  Get "Dump Cake Recipes – Desserts So Easy Even Kids Can Make Them" today.
Disclosure: Some of the links below are affilate links, meaning, at no additional cost to you, I will earn a commission if you click through and make a purchase.