Peanut Butter and Banana Wrap or Sandwich
This couldn't be much simpler, but the combination of crunchy peanut butter, banana and honey is a favorite around here. You can serve this for breakfast or stick it in the lunch box. It also makes a great snack any time of the day. Try it on different types of breads and different wraps.
Since the bananas are mixed with a bit of lemon juice, they don't brown, making this a perfect portable meal or snack.
Crunchy Peanut Butter and Banana Wrap or Sandwich
Ingredients
2 medium bananas, sliced
2 tbsp lemon juice
2 tortillas or 4 slices of bread
1/3 cup crunchy peanut butter
1 tbsp honey
Instructions
Place the banana slices in a bowl and add the lemon juice. Gentle toss until the banana slices are well coated with the juice.
Spread one side of each tortilla or slice of bread with the crunchy peanut butter and layer with the banana slices.
Drizzle with the honey and roll/ top with the other slice of bread.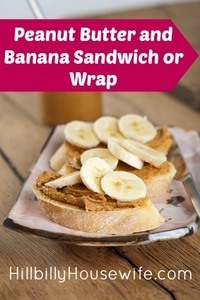 Disclosure: Some of the links below are affilate links, meaning, at no additional cost to you, I will earn a commission if you click through and make a purchase.