Peanut Brittle Recipe
My husband loves peanut brittle… it's his favorite kind of candy. I don't make it very often, but since we're getting into the Holiday spirit, I thought why not whip up a batch. It's easy to make, and tastes so much better homemade. Give it a try and let me know how you like it.
This would also make a cute gift. Make up a couple of batches and put the broken off pieces of brittle into small Christmas Tins. Perfect gift for neighbors, teachers and the likes.
Peanut Brittle Recipe
Ingredients
1 1/2 C. Salted Peanuts
2 3/4 C. Sugar
2/3 C. Water
1/2 Stick Unsalted Butter
Instructions
Prepare a 9×13 baking dish by lining it with foil and greasing the foil.
In a medium sized saucepan, mix the butter, sugar and water. Heat for approximately 25 minutes over medium heat until the mixture becomes a thick golden-brown syrup; stir often.
Slowly, mix the peanuts in with the mixture until all are completely covered with the syrup.
Pour the peanut mixture into the baking dish and spread it out evenly, preferably in one layer.
Let the peanuts sit until thoroughly cooled. Then, break into medium sized pieces and place in an airtight container.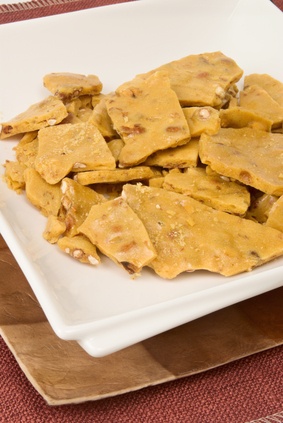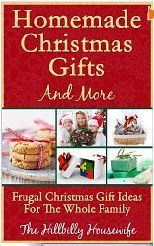 Would you like to steer clear of the holiday shopping crowds? You can with this guide to Homemade Christmas Gifts and More.
Making Homemade Christmas gifts is one way to actually enjoy the process of gift-giving. Not only are homemade gifts and decorations frugal, they're more fun!
We don't have to rush out to the mall to shop for Christmas when we have ideas for creating gifts right at home. Take time to enjoy your holiday season. Click on and download now to start planning your frugal AND fun Christmas.
www.hillbillyhousewife.com/christmasbook
Disclosure: Some of the links below are affilate links, meaning, at no additional cost to you, I will earn a commission if you click through and make a purchase.