Palačinky (Czech Crepes)
A Guest Post By Alice Seba From VegetarianLost.com (great blog to follow). 
When I was growing up, we had some pretty interesting things for dinner. We had these things that looked like donuts with a dollop of sour cream and jam on them. Other times, we had traditional Czech pancakes, called palačinky, that are more like what you'd think of as crêpes. They are traditionally spread with jam and other sweet toppings, rolled up and served. I always considered myself lucky to get to have dessert for dinner and other kids were envious, but I never really stopped to think about why he had these meals in my younger days.
My parents grew up in Communist Czechoslovakia and dollars had to be stretched. Fresh vegetables and meat were hard to come by, so mothers and grandmothers had to get creative in the kitchen. My parents escaped to Canada in 1968, but have always kept that frugal lifestyle. Even though it sometimes embarrassed me when I was a kid, I can admire what they did for all of us now. My parents came to Canada with nothing. Just a suitcase with some clothes, a pack of cards to pass the time and not much else. They learned English, worked hard and even though they weren't doctors or lawyers, managed their money and grew their net worth through incredible savvy.
With that in mind, I'd love to share this recipe for palačinky. It uses the very simplest of ingredients and you can get creative with your fillings and simply use what you have on hand. They take quite a bit of time to make (at least for me, but I never seem to remember my mom breaking a sweat). Even so, it's so worth it. If you serve these to your family or anyone, they are going to rave about them.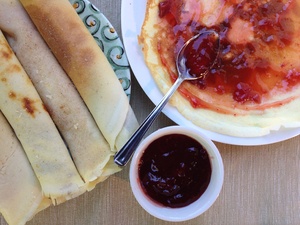 Palačinky
Makes about 8 large crepes
Ingredients
1.5 cups flour
2 eggs
2 cups milk
1 tablespoons vegetable oil
2 tablespoons sugar
Salt
Oil for frying
Instructions
Beat all ingredients until smooth.
Lightly grease a frying pan and place over medium-high heat.
Ladle batter onto the frying pan and rotate the plan and tilt it, so that the batter makes it way evenly
around the pan in an even, thin layer.
Cook for about 2 minutes or when lightly browned and flip. Cook for another minute or so.
You can let the palačinky cool slightly by stacking them on a plate as you finish cooking them. Then spread them with jam, roll them up and serve. You can also use more extravagant ingredients like nutella or top them with berries and fresh whipped cream. Or sprinkle with cinnamon sugar…there are so many options.
With 3 kids and a husband all with varying tastes, Alice Seba knows it can be a challenge to keep everyone well fed, but it's a challenge she enjoy tackling head on. She loves to share great food and also love helping people at better, waste less food and SAVE a ton of money doing it. Make sure to grab her free guide here.
Disclosure: Some of the links below are affilate links, meaning, at no additional cost to you, I will earn a commission if you click through and make a purchase.