Orange Jubilee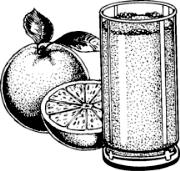 3/4 cup frozen orange juice concentrate (about half of a 12 oz can)
2 cups milk
1 medium egg (optional)
1 teaspoon vanilla
1/2 cup sugar
12 ice cubes
a strong blender
In a blender container, combine the orange juice concentrate, milk, egg (if you are using it), vanilla and sugar. Put the lid on the blender and whirl it at top speed for about 30 seconds. While the blender is running, drop in the ice cubes one at a time. Continue whirling until the ice is well chopped. This fills my blender to capacity. If your blender starts to get too full, then you don't have to add all of the ice cubes, just add as many as will fit.
I always add the egg. Make sure it is a fresh egg, from a reliable source, or even add pasteurized low cholesterol egg product instead of an egg if you are worried about salmonella. Use the equivalent of one egg, if this is the way you decide to go. Personally, I just take my chances, which is sort of reckless and footloose, but that is my choice I reckon.
This makes about 5 or 6 servings. Any leftovers may be frozen like popsicles and served the next day. It tastes a whole lot like an orange dream bar. Quite refreshing on a hot summer day, and nutritious too. Serve with pretzels for a good kid-friendly snack.
This is one of my favorite beverage recipes and it makes a great summer treat. If you enjoy inexpensive versions of healthy drinks, try my homemade tomato juice recipe.
Disclosure: Some of the links below are affilate links, meaning, at no additional cost to you, I will earn a commission if you click through and make a purchase.