Old Kentucky Nut Cake
I would like the recipe for Old Kentucky Nut Cake. The recipe appeared in at Better Homes and Garden cookbook that my Mother had. The Cookbook would have been published in the 40's or 50's. If some has the recipe I would be grateful. Also if I could find a copy of the cookbook, that would be terrific. Good recipe, wonderful memories. Thanks
From the Hillbilly Housewife:
I'm not sure if this is the recipe you're looking for, but this is what I found in one of my handwritten cookbooks. It was handed down from a great aunt.
Old Fashioned Walnut Cake
Ingredients
2/3 cup shortening
2/3 cup white sugar
3 large eggs
2 2/3 cups all-purpose flour
1 tsp salt
2 tsp baking powder
1 cup milk
1 tsp vanilla extract
1 1/3 cups chopped walnuts
Instructions
Preheat your oven to 350 F.
Combine the flour, salt, and baking powder.
Cream shortening and sugar together until you have a fluffy mixture. Beat in the eggs one at a time.
Combine milk and vanilla, and add alternately with the flour mixture to the egg mixture. Mix well after each addition. Fold in nuts last.
Pour the batter into a greased bundt pan. Bake for 50 to 55 minutes. I use the toothpick test to check for doneness. Cool on a wire rack.
I like this cake just plain or with a light dusting of powdered sugar. Occasionally I'll make it as a birthday cake and will frost it with chocolate or vanilla frosting and add some more walnuts to the top.
Does anyone else have a different recipe to share?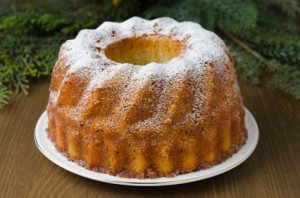 Disclosure: Some of the links below are affilate links, meaning, at no additional cost to you, I will earn a commission if you click through and make a purchase.