Old Fashioned Vanilla Custard Ice Cream
Is there anything better than a bowl of rich vanilla ice cream, freshly churned? While it takes a little time to make a custard style ice cream, it's well worth the effort.
If the recipe below sounds like a little much, cut it in half for a smaller portion of ice cream. But really, who are we kidding? It won't take long for your loved ones to gobble up this yummy vanilla custard ice cream. And if there are leftovers, they'll store in the freezer for a week or two.
Old Fashioned Vanilla Custard Ice Cream
Ingredients
2 quarts half-and-half cream
2 cups sugar
1 vanilla bean
4 teaspoons vanilla extract
8 large egg yolks
Instructions
Run the tip of a sharp knife lengthwise down the vanilla bean and scrape the seeds out into a small cup.
In a large saucepan, put the half-and-half, sugar, vanilla seeds, and vanilla extract; stir together; put saucepan over medium high heat and bring just to a boil, then immediately remove from the heat and set aside.
In a large bowl, put the egg yolks and whisk until smooth.
Remove 1 cup of the cream/vanilla mixture and very slowly start drizzling a steady, but slow, stream into the egg yolks, whisking constantly.
Continue whisking, and add another 1 cup of cream/vanilla mixture, drizzling a steady stream into the egg yolks, then add another 1 cup in the same way, then 1 more cup – for a total of 4 cups. Add egg mixture to saucepan, whisking well.
Now,take the bowl of eggs and pour into the saucepan with the remaining cream/vanilla.
Put saucepan back over medium high heat, and cook, stirring constantly, until thickened. Test with a wooden spoon; when the mixture coats the wooden spoon and sticks well, it's thick enough. You can test with a candy thermometer; it should read 170 degrees. BE SURE not to let it boil. This is your 'custard' to make the ice cream.
Pour custard through a fine sieve (or line a colander with several layers of cheesecloth) into a stainless-steel bowl which is sitting in a larger bowl filled with ice and a little water.
Let the custard cool in the bowl/ice bath, stirring several times until cooled completely.
Remove stainless-steel bowl with cool custard, cover well with plastic wrap (pressed on the surface of the custard) and put in refrigerator for 2 to 3 hours. (Stir a few times to help prevent skin from forming.
Remove from refrigerator and uncover; peel off any skin that may have formed.
Fill your ice cream maker with cold custard and freeze according to manufacturer's instructions.
Store in freezer in covered freezer container.
© 2023 Copyright www.HillbillyHousewife.com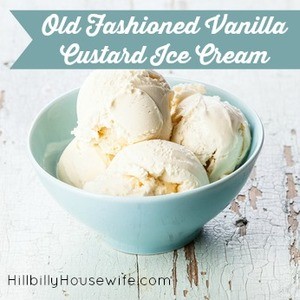 For more more sweet treats…
This is a collection of four of my most popular baking cookbooks. All recipes are easy and fun to make. Bake up some warm and gooey cookies, make a few pies for the holidays, or try your hand at some fun dump and poke cake recipes. You'll find plenty of ideas for the next bake sale, family gathering, or a homemade treat for the family.
Disclosure: Some of the links below are affilate links, meaning, at no additional cost to you, I will earn a commission if you click through and make a purchase.