Old-Fashioned Meatloaf
I love a nice meatloaf for dinner. One of my favorite parts is that it's always enough food to have leftovers for the next day. Meatloaf sandwiches for lunch anyone?
But it doesn't have to stop there. Take your meatloaf, slice it and warm it up in some tomato sauce. Serve it over cooked spaghetti for a new take on spaghetti and meatballs. (Or crumble it up into the sauce for spaghetti and meat sauce).
From the "Cook Once – Eat Twice" Cookbook
http://hillbillyhousewife.com/ebooks/eat-twice.htm
Old-Fashioned Meatloaf
Ingredients
1 cup of finely chopped onion
1 celery stalk, chopped fine
1/2 sweet red bell pepper, chopped fine
2 Tbsp butter
1 garlic clove, minced
1 tsp salt
1 1/2 tsp black pepper
2 tsp Worcestershire sauce
2/3 cup ketchup
1 1/2 lbs ground beef
1/2 lbs ground pork sausage
1 cup fresh bread crumbs
2 large eggs, beaten slightly
1/3 cup minced fresh parsley leaves
Instructions
Preheat oven to 350 degrees
In a large heavy skillet, put the onion, celery, and bell pepper with the butter, and cook just until starting to get soft, then stir in the garlic and cook for 30 seconds more.
Stir in salt and pepper, Worcestershire sauce, and 1/3 a cup of ketchup. Cook for 1 more minute.
In a large bowl, put both meats, bread crumbs, eggs, and parsley.
Mix gently with your hands until combined. Don't over mix – protein tends to get tough if handled too long.
Form into a loaf and put into a loaf pan.
Cover the loaf with remaining ketchup.
Bake in preheated oven for 1 hour.
Remove and let sit for 5 minutes, then slice and serve.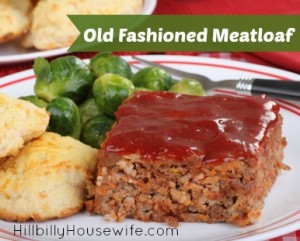 Disclosure: Some of the links below are affilate links, meaning, at no additional cost to you, I will earn a commission if you click through and make a purchase.