Old Fashioned Blueberry Buckle
I'm looking for a blueberry buckle recipe from twenty five years ago. I remember that it had a topping on it like a crumb mixture as for a pie.

– Thalia
From The Hillbilly Housewife
Buckles are a favorite around here. They are the cousins of coffee cakes and the blueberry kind is my very favorite. Blueberries are already in season around here and I can't wait to bake up one of these. It's best made with fresh blueberries, but in a pinch you can also use frozen. I completely thaw my frozen berries and then set them to drain any liquid really well before adding them to the cake batter.
Here's my favorite blueberry buckle recipe. It may sound complicated, but really isn't. A buckle comes in 3 parts. The cake batter, the fresh fruit and then the crumb topping. But don't worry… it goes together much quicker than it sounds and the end result is absolutely delicious.
Blueberry Buckle Recipe
Ingredients
3/4 cup sugar
1/4 cup shortening
1 egg
2 cups self rising flour
1/2 cup milk
2 cups fresh blueberries
1/2 cup sugar
1/3 cup all-purpose flour
1/2 teaspoon cinnamon
1/4 cup butter
Instructions
Preheat the oven to 375F.
Grease an 8×8 pan.
Cream the sugar, shortening and egg together in a medium sized bowl.
Slowly add the flour and milk, alternating the two. Pour this cake batter into the greased pan.
Sprinkle the blueberries on top.
Combine the remaining ingredients in a small bowl to make the streusel topping. I mix it with my finger tips, but you could also use a fork. You are looking for a crumbly topping. Sprinkle it over the cake.
Bake for 25 to 30 minutes.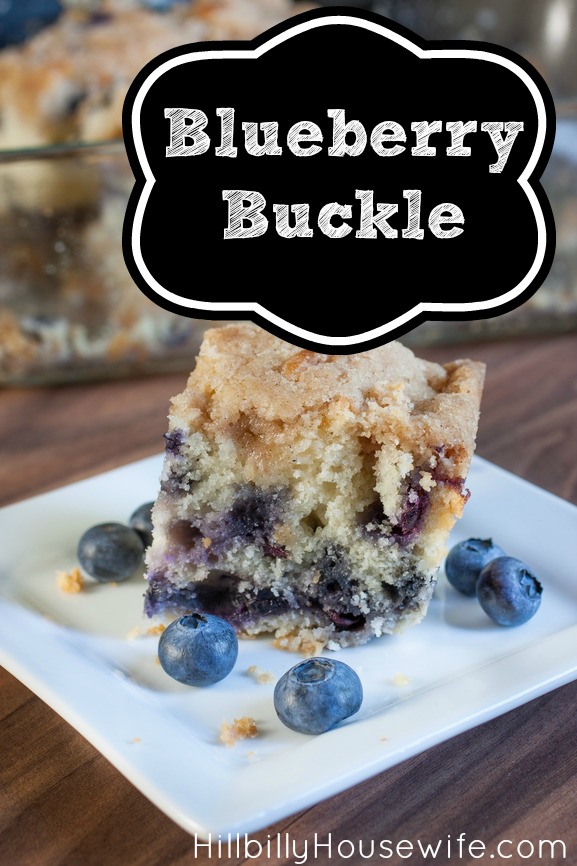 Disclosure: Some of the links below are affilate links, meaning, at no additional cost to you, I will earn a commission if you click through and make a purchase.