Old Fashion Egg Custard Pie
From a HBHW reader: This is the recipe my Mother taught me–and I'll be 75 yrs this year. It comes from her book of recipes–printed in 1942. It never failed her, and hasn't failed me.
CUSTARD PIE
Make a plain pastry for 1 crust
3 eggs
6-8 Tablespoons sugar
1/4 teaspoon salt
3 cups milk, scalded
1/2 teaspoon vanilla
Nutmeg, for top
Roll pastry a little less than 1/8th inch and fit carefully into an 8-inch pie pan. Trim and flute the edges; do NOT prick.
Beat eggs slightly;add the sugar and salt. Stir in milk. then add favoring. Pour immediately into the prepared pie pan. Sprinkle nutmeg on top, if desired.
Bake in a Mod-Hot oven (425F) 12-15 minutes, or until crust browns; then reduce oven heat to Slow (300F) and bake 25-30 minutes longer, or until pie is coagulated to within 1/2 inch of the center. Test by gently shaking the pan. You can see how much of the center is still liquid.
An inch of the center liquid will finish cooking after the pie is removed from the oven.
Remove to a cake rack to cool before serving. Serves 6
Note: A correctly baked Custard Pie is never "weepy" but has a perfectly coagulated, jelly-like consistency.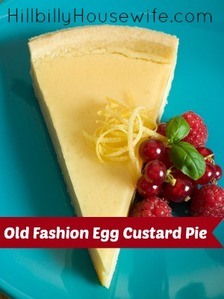 Disclosure: Some of the links below are affilate links, meaning, at no additional cost to you, I will earn a commission if you click through and make a purchase.