Oatmeal Cookie Mix in a Jar
I shared this particular recipe on my Facebook page a few days ago and it was a big hit. I thought I'd post it here as well to make it easier to save it for later. You can pin it right from this post, print it, or bookmark the page. It's a great little gift that's perfect for friends, teachers and the likes. One Facebook friend decided to make these for her grand-kids and ship them there since she can't bake Christmas cookies with them this year. What a fun idea. Before you ask… yes, you can make the cookies from the mix with either butter or egg. Either one works well. The recipe is from the No Stress Gift Giving On A Budget eBook http://www.hillbillyhousewife.com/ebooks/gift-giving.htm
Oatmeal Cookie Mix in a Jar
Ingredients
• 1 cup flour
• 1/2 cup brown sugar
• 1 tsp. cinnamon
• 3/4 cup sugar
• 1/2 tsp. nutmeg
• 1 cup raisins or chocolate chips
• 1 tsp. baking soda
• 1/2 tsp. salt
• 2 cups old-fashioned oats
Instructions
In a bowl, mix flour, cinnamon, nutmeg, baking soda and salt put to the side for the time being. Now, layer remaining ingredients in order given in a one quart wide-mouth canning jar. Pack down after each addition so everything fits. Add flour mixture on top.
Instructions for tag: Pour the entire jar of cookie mix into large bowl. Mix until everything has been completely incorporated. Now, add 1 1/2 sticks of butter or 2 eggs, slightly beaten & 1 tsp. vanilla. Use your hands to make sure everything has been blended in and then roll into 1" balls. Place 2 inches apart on greased baking sheets. Bake at 350 for 11-13 minutes.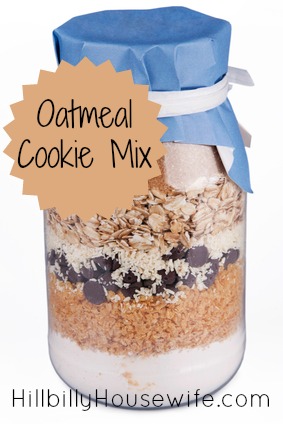 Disclosure: Some of the links below are affilate links, meaning, at no additional cost to you, I will earn a commission if you click through and make a purchase.