Nutty Pumpkin Bread Recipe
One of the best things about fall is all the yummy pumpkin spice recipes. I shared my favorite pumpkin spice mix with you a few days ago and today would like to share a recipe that uses it.
This makes a fantastic loaf of pumpkin bread. I love the added flavor and texture from the nuts. You can use whatever nuts you like in the recipe. I love it with both walnuts and slivered almonds. Yum.
This bread makes for a yummy breakfast treat. Perfect for a weekend morning before you head down to the pumpkin patch or go apple picking.
It's also a great gift to send to your child's teacher or take as a hostess gift. Perfect for fall bake sales too of course.
Pumpkin Bread Recipe With Nuts
Ingredients
2 cups flour
2 tsps baking powder
1/2 tsp baking soda
1 tsp salt
2 tsps [url href="http://www.hillbillyhousewife.com/homemade-pumpkin-pie-spice-mix.htm" target="_blank"]pumpkin spice mix[/url]
1 cup pumpkin
1 cup sugar
1/2 cup milk
2 eggs
1/4 cup butter or margarine, softened
1 cup chopped nuts – your choice
Instructions
Preheat oven to 350 degrees.
Sift together flour, baking powder, baking soda, salt, cinnamon, and nutmeg.
In separate bowl, combine the pumpkin, sugar, milk, and eggs.
Carefully add the dry ingredients to wet ingredients, then add softened butter and combine well. Add nuts and stir.
Pour mixture into a loaf pan and bake in a 350 degree oven for 45 to 50 minutes or until knife inserted in the middle comes out dry.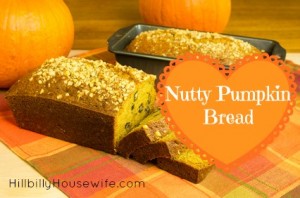 Disclosure: Some of the links below are affilate links, meaning, at no additional cost to you, I will earn a commission if you click through and make a purchase.