Non-Dairy Pumpkin Pie
This is a recipe I came up with because our son loves pumpkin pie and has a total milk allergy. Everyone in the family eats it and really likes it. It taste like regular pumpkin pie.
3/4 cup sugar
1 heaping tsp. cornstarch
1/2 tsp. salt
1 tsp. cinnamon
1/2 tsp. ginger
1/4 tsp.cloves
2 eggs + 1 egg white
1 can of pumpkin (not pumpkin pie filling)
11 oz. of soy milk
1 unbaked pie crust
MIX sugar, cornstarch, salt, cinnamon, ginger and cloves in small bowl.
Beat eggs and egg white in large bowl with whip or fork. Stir in pumpkin and sugar-spice mixture. Gradually add soy milk and stir until mixed in.
BAKE in preheated 425 degree oven for 15 minutes. Reduce heat to 350 degrees;bake for 40-50 minutes or until knife inserted near center comes out clean. Cool on wire rack. Refrigerate left overs.
Cover edge of crust with foil half way through baking to keep crust edge from getting to brown.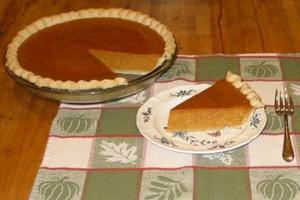 Disclosure: Some of the links below are affilate links, meaning, at no additional cost to you, I will earn a commission if you click through and make a purchase.