Mini Eggs & Bacon For Dessert – April Fool's Day Recipe
April first is almost here. I like to have a little fun with my family, by surprising them with some food that isn't what it seems to be. Here's a simple little dessert or sweet snack for the kids. It's bacon and eggs made from candy.
Eggs:
3 Tbsp. chocolate chips (white)
12 M&Ms (yellow)
Bacon:
1 Tootsie roll midget candy
1 caramel square candy
To make the eggs: melt the chocolate chips and once melted put in a Ziploc bag; snip off a corner of the Ziploc bag.
On a sheet of waxed paper, squeeze nickel sized portions of the chocolate chips onto it. Press a M&M (letter side down) into the center of each of the melted chocolate chip portions you just put on the waxed paper. Let cool.
To make the bacon: Remove the wrappers from the caramel and tootsie roll candies. In a microwave safe bowl, melt them for 4 seconds. Flatten each candy piece and then pres them together.
Now halve the candy and then press and stack the pieces, alternating layers.
Cut a 1/4 inch piece from the stack you just put together. Make a bacon strip by pinching and stretching the piece lengthwise. Cut it in half. You can create bacon ripples by gently bending the edges.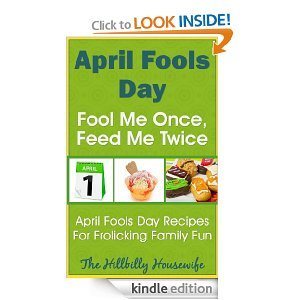 For more fun April Fool's Day recipes, grab a copy of my latest Kindle Cookbook "April Fool's Day – Fool Me Once, Feed Me Twice"
April Fool's Day is a great time to let your inner jokester out. And while you were probably taught to never play with your food, you can make an exception today 😉 Here are some safe, fun food tricks to fool your family and friends including:
Melty Mallow Fried Egg
Bottoms Up Glass of Jell-o
Candy Hamburgers
Goofy Grilled Cheese Sandwiches
Cake Con Carne
Celebration Mini Meal Surprise
Butter Cream Potato Frosting
Silly Strawberry Whipped Potato Frosting
http://www.hillbillyhousewife.com/aprilbook
Disclosure: Some of the links below are affilate links, meaning, at no additional cost to you, I will earn a commission if you click through and make a purchase.