Suggestions For School Lunches
An empty lunch box can be an intimidating thing at 6 am when you are wiping the sleep from you eyes and wishing you had taken the time to prepare and program the coffee maker the night before. To help you out of this predicament, I offer the following suggestions. You can mix and match them as you see fit, creating a good combination for your crew. All the suggestions are cheap and nutritious. Some require work the day before, but many can be made quickly, even in a bleary morning fog. Some women will print this page out and keep it on their refrigerator for ideas. Other women will have their kids look it over and check or circle all of the ideas they like. Be sure to add your own ideas too.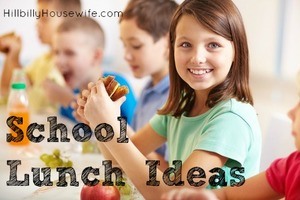 Sandwiches are the backbone of box lunches. They are easy and quick to prepare in the morning, or can be prepared and packaged the night before. Variety abounds, making monotony something only to be endured by choice. Tommy is going through a stage where he only wants grilled cheese sandwiches for lunch. I fry them in the morning, wrap them in foil, and pack them in one of the side pockets of his insulated lunch bag. They seem to be a little warm at lunch, and he is satisfied with them. Sometimes there are so many variables in a child's day that it is nice to know that lunch is predictable. I allow my children to indulge in monotony until they tire of it. Then I encourage them to explore the complex joys of variety. The following sandwich fillings include proven favorites and new adventures.
Tuna Salad with Celery
Egg Salad with Pickles
Chicken Salad with Raisins
Turkey Salad with Curry Powder
Baloney & Cheese & Mustard & Mayo
Turkey and Cranberry sauce
Fried Spam & Cheese
Fried Canned Corned Beef & Sauerkraut
Meatballs in a hotdog bun with tomato sauce
Meat Loaf with Tomato Slices
Bacon, Lettuce & Tomato
Bacon and Fried Eggs
Fried Baloney or Spam & Fried Eggs
Sloppy Joes
Turkey & Bacon and bean sprouts
Sliced Cucumbers & Butter
Sliced Cucumbers & Cream Cheese
Cream Cheese & Jelly
Peanut Butter & Jelly
Peanut Butter and Marshmallow Fluff
Peanut Butter & Raisins
Sausage & Egg Biscuit
Egg & Cheese Sandwich
Pork Roast & BBQ Sauce & coleslaw
Sliced Beef Roast & horseradish
Sliced Beef and Swiss Cheese
Sliced Beef & Cream Cheese
Sliced Beef & fried onions or mushrooms
Loose fried hamburger & onions & cheese
Burritos with beef or beans & cheese
Tacos
Quesadilla (fried cheese tortillas)
Baloney, mayonnaise & Pineapple Rings
Cream Cheese & minced peppers
Baked beans with pickle relish
Hamburgers with fixings
Corn Dogs
Hot Dogs with Chili
Hot Dogs with Cheese
Hot Dogs with Coleslaw
Chopped Chicken & BBQ Sauce
Ham Salad with Pickles
Fajitas with Beef or Chicken
Baloney, Mustard & Sprouts, wrapped in a tortilla
Sandwiches may be the mainstay of packed lunches, but other main dishes lend variety and interest to the same old thing. The following main dishes are packed cold in the lunch box. They taste good, and are usually favorites among the lunch box crowd. Some of these items will fit in flip top sandwich bags, others will need to be packed into plasitc resealable container. Remember to send a spoon or fork if the dish requires it.
Fried Chicken
Leftover Pizza
Chef Salad
Pasta & Meat Salad
Individual Meat Loaves
BBQ Chicken or Ribs
Chicken Teriyaki
Boiled Eggs
If you have a thermos at your disposal, there is no end to the variety you can send along. Many casseroles, soups and skillet meals pack nicely, making a very interesting lunch for the lucky eater. Give a few of the following a whirl when sandwiches seem boring or old. Remember to pre-heat the thermos with hot tap water. Also make certain the food is well heated before spooning it into the thermos. I heat up soupy things on the stove, and more solid things I heat in the microwave. Be sure to get everything very hot before packing it.
Baked Beans & Sliced Hotdogs
1/2 cup Hot Rice with 1/2 cup Beef & Broccoli overtop
Mashed potatoes with creamed chicken or turkey & gravy
Tuna Casserole
Chicken & Rice Casserole
Beef & Tomato Casserole
Canned Soups
Chowders
Creamed Soups
Hot Pinto Beans & Salt Pork or Bacon
Chili with beans
Spaghetti and Sauce
Chopped up Lasagna
Scalloped Potatoes or Potatoes Au Gratin
Macaroni & Cheese
Lentils & Rice
Beef Stew
Hamburger Gravy to spoon over bread
Sausage Gravy to spoon over biscuits
Creamed Ham to spoon over biscuits
Mashed Potatoes with Cheese
Ramen Noodles & Veggies
If you have a cold-pack thermos that holds 1/2-cup or 4 ounces or so, then even more options open up for you. If you don't have a cold-pack thermos, then you can pack a blue freezer-pack along with the lunch, and rest assured that everything will remain cold until lunch time. This is the method I prefer. I use small 4oz and 8oz resealable containers put out by Glad and Zip-Lock. Rubbermaid also makes some nice ones. They are just the right size to hold a serving of pudding or yogurt or fruit. They come home every day to be washed. Try filling them with the following:
Deviled Eggs
Custard style Yogurt
Vanilla Yogurt
Yogurt with fruit
Yogurt with Jam
Cottage Cheese & cut up or Canned Fruit
Cottage Cheese & minced veggies
Plain Cottage Cheese
Instant Pudding
Homemade Pudding
Rice Pudding
Bread Pudding
Fruit Flavored Gelatin
Gelatin with Fruit
Gelatin with Veggies
Carrot Raisin Salad
Macaroni Salad
Coleslaw
Potato Salad
Waldorf Salad
Dip or Dressing for
Vegetable Sticks
Fruit Cobbler or Crisps
Fruit or Cream Pies
Pea & Cheese Salad
Canned Pineapple
Canned Peaches
Canned Pears
Canned Fruit Cocktail
Applesauce
Prunes cooked in Orange Juice
Green Salad, with dressing in a separate small container
Frozen Strawberries
Other items can be packaged in flip top baggies and sent along for crunching. Children usually like a variety of extra nibbles throughout the week. If you send fresh fruit, it will more likely be eaten if it is cut into easy to eat wedges, than if it is left whole. Also, small fruit like bananas or apples will result in fewer leftovers than large fruit. If I only have large fruit, I will give each child half of it, which is more in keeping with their appetite.
Apple Wedges
Orange Smiles
Cluster of Grapes
Small Banana
Carrot Sticks
Celery Sticks
Broccoli Trees
Turnip Sticks
Radishes
Boiled Eggs
Green Pepper Strips
Cucumber Slices
Cheese Cubes
Peanut Butter Crackers
Crackers & Baloney Triangles
Crackers & Cheese Slices
Crackers & Cream Cheese
Pretzels
Popcorn
Caramel Corn
Raisins
Dry Apricots
Prunes
Banana Chips
Peanuts
Sunflower Seeds
Cheese Crackers
Celery stuffed with Peanut Butter
Celery stuffed with Cream Cheese
Granola
Gorp
Homemade Cereal Snack Mix (like chex mix)
Next in line is something sweet to nibble on when the rest of the food is eaten. At my house this usually means a baked good. All of the following items can be made at home the day before, or on Baking Day. They pack easily in flip-top baggies and provide the extra nourishment that makes sure everyone gets enough to eat.
Oatmeal Cookies
Peanut Butter Cookies
Chocolate Chip Cookies
Snickerdoodles
Brownies
Chocolate Cake
Vanilla Cake
Spice Cake
Gingerbread
Banana Cake
Oatmeal Cake
Blondies
Granola Bars
Blueberry Muffins
Banana Muffins
Oatmeal Muffins
Cheese Muffins
Corn Muffins
Whole Wheat Muffins
Bran Muffins
Zucchini Bread
Banana Bread
Peanut Butter Bread
Raisin Bread
Orange Juice Muffins
Coffee Cake
Cinnamon Raisin Biscuit
Cinnamon Toast
We end this litany of choices with beverages. A thermos will make toting these items easy and healthful. If you don't have a thermos, then be sure to pack a blue freezer-pack along with the lunch, to keep everything cold and bacteria-free. If this isn't an option then choose Kool-Aid, Tea, Water or Lemonade, because these items can withstand temperature change the easiest. My kids prefer pint (16oz) containers of beverage, so they can rehydrate easily during lunch.
Reconstituted Milk
Chocolate Milk
Hot Chocolate
Hot Coffee or Tea
Kool-Aid
Iced Tea
Ice Water
Fruit Smoothies
Orange Juice
Apple Juice
Grape Juice
Lemonade
Disclosure: Some of the links below are affilate links, meaning, at no additional cost to you, I will earn a commission if you click through and make a purchase.