Luck of the Irish Kettle Soup
Corned beef was originally substituted by the Irish Americans for bacon in the late 1800′s. Many believe that eating corned beef with cabbage on St. Patrick's Day brings good luck throughout the year. A great way to do that is to make a big pot of this yummy soup.
Irish Kettle Soup
2 T butter
1 1/2 C white onion, chopped
1 C celery, chopped
2 garlic cloves, minced
8 C chicken broth
1 1/2 C carrots, chopped
4 C cabbage, coarsely chopped
1 bay leaf
1 t parsley flakes
1/2 t thyme
1/4 t pepper
2 1/2 C cooked corned beef, chopped
1 (14.5 oz.) diced tomatoes with juice
1/4 t salt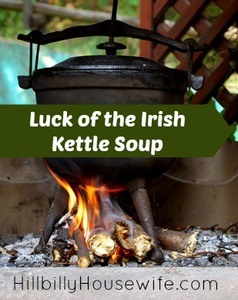 Melt the butter in a kettle placed over medium heat.
Add the onion and celery and stir to coat with the butter.
Cook 8 minutes or until the vegetables are fork tender, stiring often.
Stir in the garlic and cook for 1 minute.
Pour the chicken broth into the kettle.
Carefully stir in the carrots and cabbage.
Add in the bay leaf, parsley, thyme and pepper and stir to incorporate.
Bring the soup to a steady boil.
Once boiling, reduce the heat to medium low and cover the kettle.
Allow the soup to simmer 45 minutes, stirring occasionally.
Up the heat to medium then stir in the corned beef.
As the soup begins to boil carefully add in the tomatoes.
When the soup has returned to a steady boil reduce the heat again to medium low.
Cook uncovered for 15 minutes. Sprinkle in the salt and stir to combine.
On St. Patrick's Day Everyone Can Be Irish

St. Patrick's Day gives us all an excuse to have some fun and eat delicious comfort foods.

Just thinking about corned beef, cabbage & soda bread give me goose bumps.  Those classic Irish dishes are among some of my favorite but it's fun when you can find new recipes that make your tummy happy.

Since St. Patrick's Day is just around the corner I thought it would be nice to put together some recipes and crafts and create a kindle ebook to celebrate.

You'll find delicious Irish food along with a bunch of crafts that your family will enjoy creating together.

And remember, with all Kindle ebooks, you don't need a Kindle to download them. Amazon makes it easy to put right on your computer, laptop, or other e-reader or device. And the price is right, too!

http://www.amazon.com/St-Patricks-Everyone-Irish-ebook/dp/B00BS9LGJG
Disclosure: Some of the links below are affilate links, meaning, at no additional cost to you, I will earn a commission if you click through and make a purchase.