Lemonade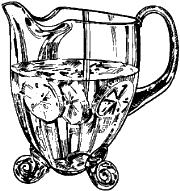 2 cups of lemon juice
2 cups of sugar
Tap water to make 1 gallon (about 3-1/2 quarts)
Gallon sized pitcher
In a large gallon-sized pitcher combine the lemon juice and sugar. Stir and stir to dissolve the sugar. If necessary, add a little hot tap water to help the process along. A cup or two of hot tap water will be plenty. When the sugar is dissolved add cold tap water to fill the pitcher. Serve over tall glasses of ice. If you prefer a stronger flavor, you may slice a fresh lemon into the pitcher. I usually use bottled lemon juice because it is the cheapest and most available to me. Adding the fresh lemon slices makes the bottled lemon juice taste much fresher.
The recipe may be cut in half if desired. Use 1-cup each of lemon juice and sugar. Prepare in a 2-quart pitcher.
When it comes to cheap beverage recipes, it doesn't get any better than this. But of course then there's the delicious and nutritious orange jubilee. Give it a try.
Disclosure: Some of the links below are affilate links, meaning, at no additional cost to you, I will earn a commission if you click through and make a purchase.