Kale and Avocado Salad With Cucumber
One of my favorite new vegetables is Kale. It's awesome in soups and stews, sauteed like any other green and I've even added it to my smoothies in the morning. You can also make some great healthy Kale chips.
Kale is often found either sold by the bunch or in a large bag (washed and cut into bite-sized pieces). I have bought both types and usually go with whichever kind ends up being cheaper.
Kale is considered a superfood. It is low in calories and full of fiber, iron, calcium and Vitamins K, A and C. In other words, it's just smart to eat … especially since it's very affordable. One of my favorite side dishes is a simple Kale salad made with Avocado and lemon juice as the dressing. It's healthy and fills you up. From  here, you can add any other veggies you like. I almost always add chopped cucumber, but bell peppers, tomatoes etc are great additions as well.
| | |
| --- | --- |
| Kale Salad With Avocado Dressing | |
Author:
Ingredients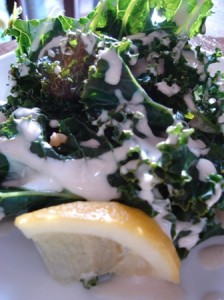 2 cups of kale
1 ripe avocado
1/2 lemon
Salt
1/2 cucumber
1 yellow bell pepper (optional)
Instructions
Wash your kale and cut it into bite-sized chunks. You can also used the pre-prepped kind that comes in a large bag at the grocery store. Put the Kale into a medium-sized bowl.
Cut the avocado in half, remove the pit and cut it into small chunks. Put them into the bowl on top of kale.
Squeeze the juice from the lemon into the bowl as well. Add some salt to taste.
Use your hands to mash the avocado up and mash it into the kale leaves. Kale leaves are sturdy, so don't be afraid to mash it up like meatloaf.
Cut the cucumber and bell pepper (along with any other raw veggies you like) into small chunks and stir them into your kale salad. Serve immediately.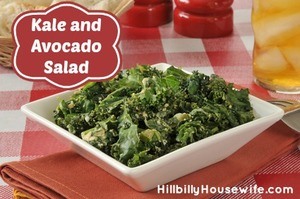 Disclosure: Some of the links below are affilate links, meaning, at no additional cost to you, I will earn a commission if you click through and make a purchase.