Italian Beans & Rice
Here's a dish that's as frugal as it is delicious. We've been making Italian beans and rice for dinner for as long as I can remember.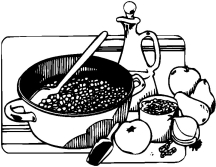 2 tablespoons olive oil
1 tablespoon minced garlic
1 medium onion, chopped
2 stalks celery, chopped
1 dash hot pepper flakes, or to taste
15 ounce can chopped tomatoes
3 cups cooked (1 cup dry) white beans like great northern or navy beans (2 – 15 ounce cans of beans will make 3 cups)
1 tablespoon dry parsley
1/2 to 1 teaspoon basil (optional)
Cooked brown rice
Put your rice on to cook before you begin this recipe. I use 1-1/2 cups of brown rice and 3 cups of water. For the beans I cook a cup of them earlier in the day, so they are plenty tender by suppertime.
Begin by chopping your onion and celery. Heat the oil in a 3 quart pot. Add the garlic, onion, celery and hot pepper flakes. Saut� until the onion is tender and fragrant and the celery is bright green. Add the undrained tomatoes and 3 juicy cups of cooked beans. Stir it all up. Add the parsley and the basil if you are using it. Bring to a boil, reduce the heat and simmer for about 10 minutes. Serve over the brown rice.
If your beans weren't salted and if you use no-salt-added tomatoes, you will need 1 teaspoon of salt for this dish. Otherwise, salt to taste. If the tomatoes and beans are both already salted, you probably won't need to add any additional salt.
Makes 6 servings. Sprinkle with Parmesan cheese and extra hot pepper flakes at the table.
I hope you enjoy this bean recipe as much as my family does. You may also want to try making this delicious black bean soup recipe.
Disclosure: Some of the links below are affilate links, meaning, at no additional cost to you, I will earn a commission if you click through and make a purchase.