Irish Sweet Milk Bread
Sweet milk is whole milk that has not been processed. Many grocery stores sell sweet milk in their dairy sections. If you can't find sweet milk at your local grocery store buttermilk will work just as well. If the crust on your bread seems to hard, wrap it in a damp kitchen towel until it has completely cooled. This will soften the crust and make it much easier to cut.
2 C of white flour
1 1/2 t salt
1 1/2 t baking soda
4 C wheat flour
2 C of sweet milk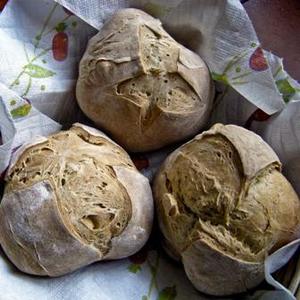 Place the white flour into a large mixing bowl. Add the salt and baking soda and toss to combine well. Dump the wheat flour into the mixture and using your hands mix until all the ingredients are incorporated together well.
Make a well in the middle of the flour mixture. Pour the sweet milk into the well slowly. Use a wooden spoon and mix the dough while adding the milk. It may take a little less milk or just a little more depending on the type of flour used but when the dough is ready it should be soft but easy to manage.
Once the dough is ready lightly flour your hands and knead it in the bowl until you have formed a ball. Lightly flour a flat surface and press the dough into a circle that is 1 1/2 inches thick. Flour a table knife and cut an x pattern into the middle of the dough so that when baked the bread will break easily into 4 quarters.
Place the dough on an ungreased cookie sheet in a preheated 425 degree oven for 25 minutes. Reduce the oven heat to 350 degrees and continue baking for 15 minutes.
Remove and allow the bread to cool at least 4 hours before cutting.
On St. Patrick's Day Everyone Can Be Irish

St. Patrick's Day gives us all an excuse to have some fun and eat delicious comfort foods.

Just thinking about corned beef, cabbage & soda bread give me goose bumps.  Those classic Irish dishes are among some of my favorite but it's fun when you can find new recipes that make your tummy happy.

Since St. Patrick's Day is just around the corner I thought it would be nice to put together some recipes and crafts and create a kindle ebook to celebrate.

You'll find delicious Irish food along with a bunch of crafts that your family will enjoy creating together.

And remember, with all Kindle ebooks, you don't need a Kindle to download them. Amazon makes it easy to put right on your computer, laptop, or other e-reader or device. And the price is right, too!

http://www.amazon.com/St-Patricks-Everyone-Irish-ebook/dp/B00BS9LGJG
Disclosure: Some of the links below are affilate links, meaning, at no additional cost to you, I will earn a commission if you click through and make a purchase.