Irish Coddle Recipe – Perfect For St. Patrick's Day Lunch
Coddle is a traditional Irish dish and makes a perfect hardy lunch on St. Patty's Day. It is considered a comfort food in Ireland and is typically eaten during the winter months. Coddle is steamed not boiled so a tight fitting lid on the soup pot is essential. Remember to check your coddle during cooking to ensure it is not boiling. Should it begin to boil, lower your heat to the lowest setting and adjust your cooking time to 2 hours.
1 (1 lb.) pkg. of bacon
2 (1 lb.) pkg. sausage links
2 onions, sliced
2 whole garlic cloves
4 large potatoes, peeled and sliced thick
2 carrots, peeled and chunked
1 t salt
1 t pepper
4 C apple cider
2 t parsley flakes
Place the bacon in a skillet positioned over medium heat. Fry it until it's nice and crispy. Remove it from the pan and allow it to drain on some paper towels.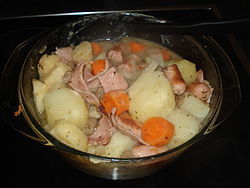 Pour most of the bacon grease out and brown the sausage links in the same pan. When they are done, remove them and set them aside with the bacon.
Cook the onions in the same pan drippings.  Adjust the heat to medium low and cook for 5 minutes or until just beginning to soften.
Crumble the bacon into the bottom of large soup pot. Place the cooked sausage into the pot with the bacon. Add the softened onions and garlic cloves. Place the potatoes and carrots into the pot. Season with salt and pepper.
Pour enough of the apple cider over the mixture in the pot to just cover.
Cover the pot and cook over medium low heat for 1 1/2 hours. Sprinkle the parsley over the coddle  just before serving.
On St. Patrick's Day Everyone Can Be Irish

St. Patrick's Day gives us all an excuse to have some fun and eat delicious comfort foods.

Just thinking about corned beef, cabbage & soda bread give me goose bumps.  Those classic Irish dishes are among some of my favorite but it's fun when you can find new recipes that make your tummy happy.

Since St. Patrick's Day is just around the corner I thought it would be nice to put together some recipes and crafts and create a kindle ebook to celebrate.

You'll find delicious Irish food along with a bunch of crafts that your family will enjoy creating together.

And remember, with all Kindle ebooks, you don't need a Kindle to download them. Amazon makes it easy to put right on your computer, laptop, or other e-reader or device. And the price is right, too!

http://www.amazon.com/St-Patricks-Everyone-Irish-ebook/dp/B00BS9LGJG
Image courtesy of Wikipedia
Disclosure: Some of the links below are affilate links, meaning, at no additional cost to you, I will earn a commission if you click through and make a purchase.