Irish Brisket Crockpot Meal
This is a traditional good luck meal that is served on St. Patrick's Day. This version of an old favorite makes quick work of a delicious meal. If you want to make it for a larger group just double your ingredients and use a 5 or 6 qt. slow cooker.
This is perfect for a busy St. Patrick's Day. Put everything in your crockpot in the morning before you head out for parades and festivals. By the time you're back home, the meal will be ready to eat and the house will smell wonderful. I love this one pot meal and leftovers are great reheated the next day.
Irish Brisket Crockpot Meal
Ingredients
1 onion, sliced
4 carrots, diced into chunks
2 white potatoes, quartered
1 (1 lb.) corned beef brisket with spice packet
1/3 C apple juice, unsweetened
2 cloves
1 T brown sugar
1/2 t orange peel, grated
1/2 t mustard
1 cabbage, wedged
Instructions
Place the onion into the bottom of a 3 qt. size slow cooker.
Place the carrots and then the potatoes over the onion.
Lay the brisket over the top of the vegetables.
Pour the apple juice into a separate bowl.
Add the cloves, brown sugar, orange peel, mustard and spice packet.
Whisk until the ingredients are completely combined.
Pour the mixture over the brisket in the slow cooker.
Cover and cook on high 4 hours.
Add the cabbage wedges to the slow cooker.
Recover and continue cooking 30 minutes or until the meat and vegetables are tender.
Remove the cloves before serving.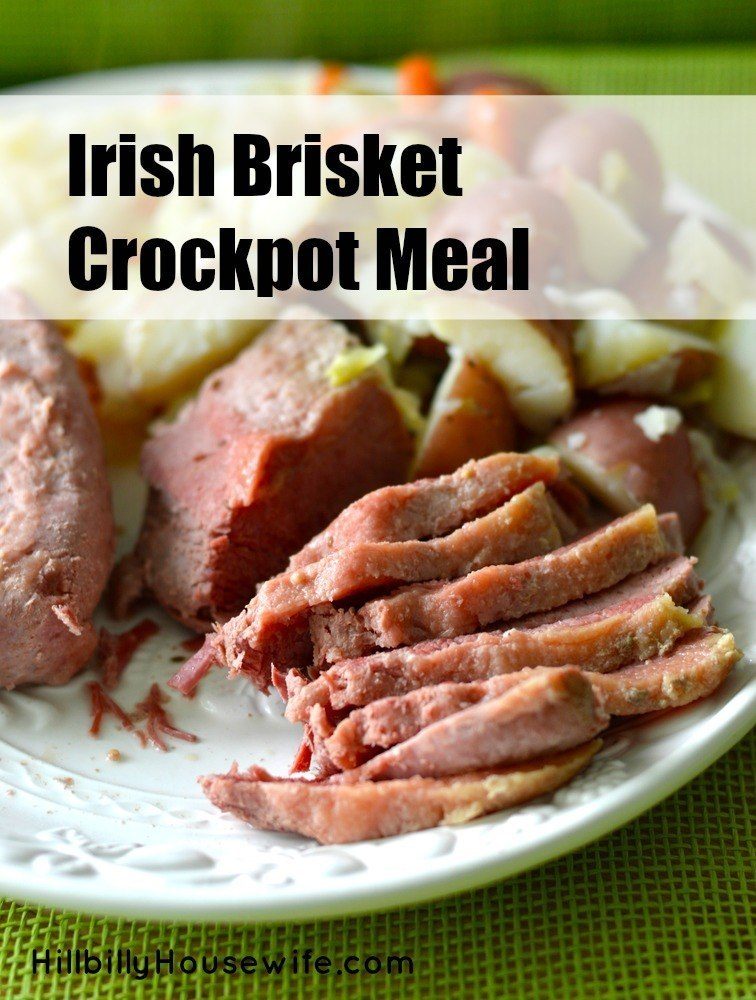 Disclosure: Some of the links below are affilate links, meaning, at no additional cost to you, I will earn a commission if you click through and make a purchase.