Instant Cream of Tomato Soup
This is a great recipe for those days when you can't make it to the store. Whip up a batch of cream of tomato soup with things sitting in your pantry and fridge. Make some sandwiches (grilled cheese are a favorite around here) to go with it and lunch or dinner is ready.
Instant Cream of Tomato Soup
Ingredients
6 ounce can tomato paste
1 can of water
2 tablespoons butter
3 cans of milk
1 teaspoon sugar
1/4 teaspoon salt
1 teaspoon onion powder
Dash black pepper
Instructions
This recipe is easy, healthy and good. Open up the tomato paste and scrape the contents into a medium-sized saucepan. Add 1 can of water and the butter. Stir and heat the mixture until it is smooth and bubbly. Remove the pan from the heat. Add the milk, sugar, salt, onion powder and pepper. Stir until smooth. Reheat over low heat until very hot, but not boiling.
If you boil the soup it will curdle.  It still tastes good if it curdles, but it is speckled when you look at it.  If you find yourself boiling it most of the time, in spite of yourself, then change the name to Speckled Tomato Soup and pretend like it's supposed to look that way.  My favorite way to eat this soup is with grilled cheese sandwiches.  The recipe is easily doubled for more servings.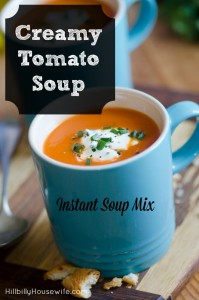 Disclosure: Some of the links below are affilate links, meaning, at no additional cost to you, I will earn a commission if you click through and make a purchase.