Indian Pudding Recipe
Here is a fun dessert that celebrates Thanksgiving history. Don't forget to use this opportunity to talk to your kids about the history Native Americans played in the first Thanksgiving while you make this pudding dessert with them.
Indian Corn Pudding
Prep time:
Cook time:
Total time:
Ingredients
1 quart plus 1 cup milk
1/2 cup Indian meal (aka cornmeal)
1 cup molasses
1 cup sugar
2 eggs, beaten
1 teaspoon salt
1/2 teaspoon cinnamon
1/2 teaspoon ginger
2 tablespoon butter
ice-cream (optional)
Instructions
Bring a quart of milk to its boiling point but do not go into rapid boil.
Combine the cornmeal with 1/2 cup cold milk and add this to the hot milk stirring very well!
In a baking dish blend together molasses, sugar, eggs, salt, cinnamon, ginger, butter and remaining 1/2 cup of milk.
Add the cornmeal mixture to the baking dish spreading out evenly. Bake for 3 hours at 300 degrees F.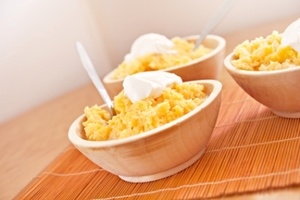 Serve while hot and with ice cream on the side. This is a fun and quick dessert, perfect for Thanksgiving. It takes a little time, but it's well worth it. The slow baking at a relatively low temperature creates a wonderful texture. It's also quite tasty for breakfast.
The Hillbilly Housewife Thanksgiving Planner
Don't run around like a chicken (or should that be turkey?) with its head cut off on Thanksgiving morning. The Hillbilly Housewife's Thanksgiving Planner will help you plan ahead and stay on top of things so you can actually enjoy Thanksgiving with your family & friends.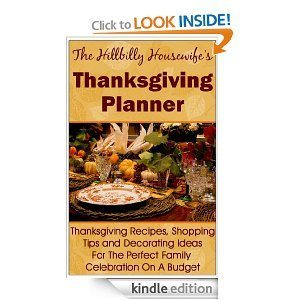 If you take a quick minute to read the first chapter you'll realize how easy your Thanksgiving celebration will be. There are plenty of tips and ideas to make sure this year's feast doesn't stretch your budget to the breaking point, too.
There are also 2 bonuses tucked inside: A printable planner & checklist and all of the recipes in a printable pdf file.
http://www.amazon.com/The-Hillbilly-Housewifes-Thanksgiving-Planner-ebook/dp/B00A81OQ56
Disclosure: Some of the links below are affilate links, meaning, at no additional cost to you, I will earn a commission if you click through and make a purchase.