Indian Lentil and Rice Bake
Beans and rice are the basis of many a frugal meal. The only problem is that it can get a bit boring if you don't venture out of your usual cuisine. This Indian food inspired dish is the perfect way to spice things up. Full of brown rice and lentils it will fill you up while the spices, onion, raisins and pine nuts turn it into a delicious meal. Baking this dish give it the great texture. Serve it with some hardy homemade bread for a delicious supper.
Indian Rice and Lentil Bake
Ingredients
1 small onion, diced small
2 tsp cooking oil
1 cup uncooked long grain brown rice
1 tsp tomato paste
2 1/2 cup water
1/4 tsp cinnamon
1/4 cup uncooked lentils
1/2 tsp salt
1/2 cup raisins
1/2 cup pine nuts
Instructions
Put the onion and oil in a large skillet over medium heat and cook, stirring, until onion softens.
Add the uncooked rice to the skillet, stir, cooking for 2 minutes.
In a separate bowl, stir together the tomato paste, water, cinnamon, and lentils until blended well, then pour into the skillet with the rice.
Bring the mixture in skillet to a gentle boil, turn heat to low, cover skillet and simmer slowly for 30 minutes.
Preheat oven to 350 degrees and lightly oil or butter an 8×8 baking dish.
After mixture has simmered for 30 minutes in skillet, uncover the skillet and add the salt, raisins, and pine nuts, stirring to combine.
Now pour mixture into prepared baking dish, cover dish and put in preheated oven and bake for 20 minutes or until mixture is bubbling hot and rice and lentils are fully cooked.
Remove and let stand, covered, for 5 minutes before serving.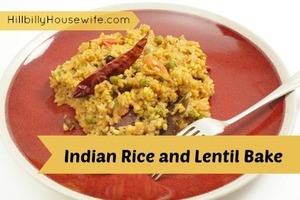 Disclosure: Some of the links below are affilate links, meaning, at no additional cost to you, I will earn a commission if you click through and make a purchase.