Ice Cream Tacos – April Fool's Day Treat
Here's another fun dessert idea that isn't quite what it appears to be. Bake the shells ahead of time and then have the kids help put these ice cream tacos together.
Ingredients:
1/3 cup melted butter
1/2 cup brown sugar, packed
1/4 cup honey
3/4 cup flour
1/2 tsp. water
4-5 drops green food coloring
1/2 gallon chocolate ice cream
1 cup cool whip
1 cup coconut, flaked
Red M&M minis
Yellow M&M minis
Orange M&M minis
Directions:
Draw two 3 inch circles on a piece of parchment paper (make sure to use a pencil). Place the parchment paper, pencil mark side down, on a baking sheet and set aside.
Beat the butter, brown sugar and honey, in a large bowl, until well blended. Now add the flour and mix well (it's going to be thick). Spread 1 Tbsp. of the batter over each of the circles you drew on the parchment paper.
Bake for 6-7 minutes or until golden brown at 350 degrees. Let cool for 2 minutes. Now loosen each of the cookies and curl around a rolling pin to create a taco shell. Let cool completely before removing and placing on a wire rack. Continue this until the batter is gone.
Combine the food coloring and water in a resealable bag; add the flaked coconut. Close the bag tightly and shake to tint.
Use the ice cream to fill the taco shells. Add the coconut, M&M's and whipped cream to top the tacos.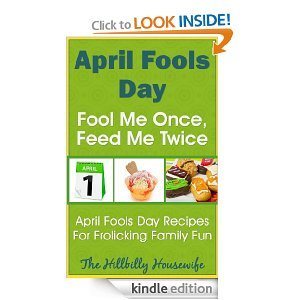 For more fun April Fool's Day recipes, grab a copy of my latest Kindle Cookbook "April Fool's Day – Fool Me Once, Feed Me Twice"
April Fool's Day is a great time to let your inner jokester out. And while you were probably taught to never play with your food, you can make an exception today 😉 Here are some safe, fun food tricks to fool your family and friends including:
Melty Mallow Fried Egg
Bottoms Up Glass of Jell-o
Candy Hamburgers
Goofy Grilled Cheese Sandwiches
Cake Con Carne
Celebration Mini Meal Surprise
Butter Cream Potato Frosting
Silly Strawberry Whipped Potato Frosting
http://www.hillbillyhousewife.com/aprilbook
Disclosure: Some of the links below are affilate links, meaning, at no additional cost to you, I will earn a commission if you click through and make a purchase.