Hummus with Yogurt
Hummus makes for a great healthy snack and a nice appetizer when you have people over. I love this particular recipe. The yogurt adds some calcium and additional protein and makes for an extra creamy dip. You can easily modify this recipe by adding more garlic or even some roasted red peppers.
1 can (15 oz size) garbanzo beans (chickpeas), drained and rinsed
1 Tbsp olive oil
1 Tbsp fresh lemon juice
1 garlic clove, grated fine
1 tsp ground cumin
1/4 tsp salt, to taste
1/8 tsp black pepper
1/8 tsp cayenne
1/4 cup nonfat plain yogurt (more if needed for desired consistency)
1/4 cup chopped fresh parsley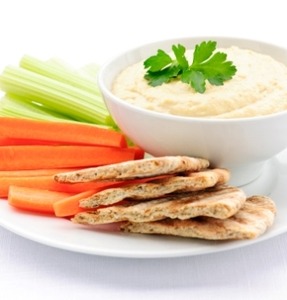 Get out your food processor or blender and put in all the ingredients EXCEPT the yogurt and parsley.  Pulse until as smooth as you like.
Add the 1/4 cup yogurt and pulse until blended and smooth. (Add as much yogurt as you want to get the texture you like.)
Spoon out into a bowl, add parsley, stir well, adjust for seasonings and serve immediately as a dip, a sandwich spread, or in a salad.
Refrigerate any leftovers.
For more delicious healthy recipes that fit your budget, grab a copy of my ebook Healthy Eating On A Budget
Preparing healthy food for my family while still staying within a budget can be hard.  To make things simpler, I've done a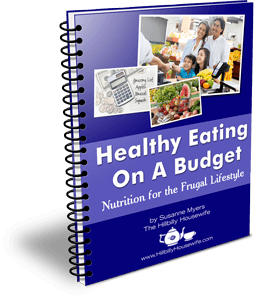 little bit of research to figure out which budget friendly foods are ALSO healthy.  Once I had my list created, I started to gather some of my favorite recipes together so I we wouldn't get bored eating the same old beans, rice & eggs and I'm happy to share it with you today…

Just click on Healthy Eating On a Budget to order your copy today!

http://www.hillbillyhousewife.com/ebooks/healthybudget.htm
Disclosure: Some of the links below are affilate links, meaning, at no additional cost to you, I will earn a commission if you click through and make a purchase.