How To Make Evaporated Milk
A few weeks ago I shared my recipe for sweetened condensed milk. Since then I've gotten quite a few questions about how to make evaporated milk. The process is similar, but there is no added sugar. By cooking down the milk to boil out some of the water content, you end up with a richer, slightly sweeter  condensed milk without the sticky consistency of sweetened condensed milk.
Quite a few recipes call for evaporated milk and it is delicious in coffee. You can buy it ready-made in cans, or you can make your own in about 25 minutes. I use whole milk for this recipe. The only other things needed are a heavy saucepan and a little time. It really couldn't be easier.
This recipe comes in handy when you find yourself with an abundance of milk. The finished product will last 5 days in the fridge. Here's how to make evaporated milk.
Evaporated Milk Recipe
Instructions
Get out a heavy sauce pan. Add the milk and heat it over medium heat until it comes to a simmer. Turn down the heat to a low medium and while stirring occasionally continue simmering until it is reduced down to about 1.5 cups of liquid. This should take about 25 minutes.
Allow the evaporated milk to cool before transferring it to a clean glass jar. Store in the refrigerator for up to 5 days.
© 2023 Copyright www.HillbillyHousewife.com
You can also make this from lactose free milk, or use your favorite nut or soy milk.
For even more homemade recipes for things you'd normally buy at the store, take a look at the Homemade Mixes Cookbook available on Amazon.
Homemade Mixes – Make It Yourself and Save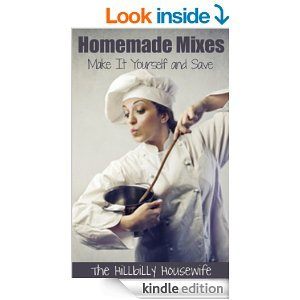 Making your own mix from scratch rather than buying it in the store not only saves you money but also saves you from all the additives and preservatives that are put in the foods we buy. The recipes include:
Apple Pie Spice Mix
Basic Muffin Mix
Brownie Mix
Caribbean Jerk Seasoning
Chocolate Chip Cookie Mix
Corn Bread Mix
Cream of Soup Mix
Fajita Seasoning
Fish Fry Coating Mix
Fruited Oatmeal Mix
Homemade Taco Seasoning Mix
Homemade Vanilla Chai Tea Mix
Disclosure: Some of the links below are affilate links, meaning, at no additional cost to you, I will earn a commission if you click through and make a purchase.