How To Make An Emergency Crisco Candle – Frugal Tip
I first came across this tip on Pinterest and then found a video on YouTube. You can take a can of Crisco and a piece of string (or a candle wick) and create your own long lasting candle. This might come in very handy during a long power outage.
Below is a short video on exactly how to do this. Couldn't be simpler, but a great tip that I'm sure we'll all remember when we're stuck in a prolonged power outage and are starting to run out of candles. Heck, I might do this for soft lighting at night outside or on a camping trip with a can of half-used Crisco that's about to go bad.
All you do is take a candle wick from a craft store with a metal base and push it as deep as possible into the Crisco. Or if you don't have one of those lying around when the power goes out, grab a piece of string or twine and either a paper clip or a metal washer and tie it around one end of your string. Again push it deep into the Crisco with the end of your "wick" still sticking out and light it.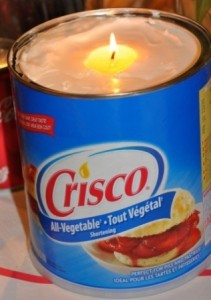 Disclosure: Some of the links below are affilate links, meaning, at no additional cost to you, I will earn a commission if you click through and make a purchase.