How To Grill Portabello Mushrooms
In 2014 we're doing our best to eat healthier. I've been cooking more veggies, more "real food" (unprocessed) and we've cut back on red meat quite a bit. One replacement that's been working pretty well is mushrooms. They are filling, have that "meaty" flavor and texture, but they're a lot better for you. Take these grilled portabellos for example. They are an excellent alternative to steak. I serve them with a side salad and some potatoes.
How To Grill Portabello Mushrooms
Ingredients
4 portabello mushroom caps
1/4 cup olive oil
2 tablespoons balsamic vinegar
2 chopped cloves garlic
Salt and pepper
Instructions
Remove the stems from the mushrooms and place them gill side up on a plate.
Mix the olive oil, balsamic vinegar, garlic, salt and pepper in a small dish. Pour most of this marinade over the mushrooms. Brush the mushroom tops (which are touching your plate) with the remaining marinade. Let the mushrooms marinate for about an hour.
Fire up your grill and grill, top side down for about 15 minutes. You can also bake in the oven for about 15 minutes at 400 F.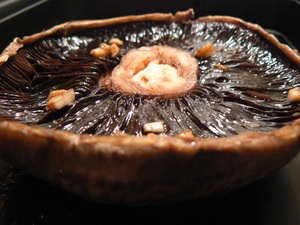 Disclosure: Some of the links below are affilate links, meaning, at no additional cost to you, I will earn a commission if you click through and make a purchase.