How To Cook Bacon In The Oven
This has been a game changer for us, but frying bacon in the pan can be messy and you have to watch it like a hawk the entire time. I looked into how to cook bacon in the oven a while back and we haven't looked back since.
I love bacon, but I'm not always the biggest fan of cooking it. I have a pretty small kitchen right now and when I cook it in a pan or cast iron skillet, grease splatters everywhere. And I don't have to tell you how much of a mess it is cleaning grease splatter from your stove top and back splash.
I switched to cooking it in the microwave for a while (in between some paper towels to soak up the grease). It works in a pinch, but the bacon just doesn't have quite the right flavor and texture. It works fast and in a pinch, but you don't end up with crispy bacon.
A couple of months ago a friend of mine introduced me to the idea of baking bacon in the oven. It sounded good, but I was a little concerned about bacon grease splattered all over the inside of my oven. I finally gave it a try and it works great. No spattering and splashing in the oven and it cooks even every single time.
We've been baking bacon every weekend and it turns our perfect ever time. Just watch it towards the end so the bacon doesn't get too dark.
How To Cook Bacon In The Oven
Ingredients
1 pack of bacon
aluminum foil
Instructions
Preheat your oven to 400F.
Line 2 cookie sheets with aluminum foil.
Lay the bacon slices on the cookie sheets. They can touch on the sides, but you don't want them to overlap.
Bake for 15 to 20 minutes depending on the thickness of the bacon and how crispy you like it.
Pour the bacon grease in a glass jar and save it in the fridge for cooking eggs and the likes later.
Move the bacon slices to a plate. If you like you can set them on paper towels first to soak up some of the grease.
© 2023 Copyright www.HillbillyHousewife.com
One of the main reasons I love cooking bacon this way is because it is so easy to catch the grease after. I store my bacon grease in a glass jar and use it for frying eggs and potatoes. Here are some other ideas for using bacon grease  if you find yourself with more than you know what to do with.
What's your favorite way to cook up bacon and do you end up using the bacon grease?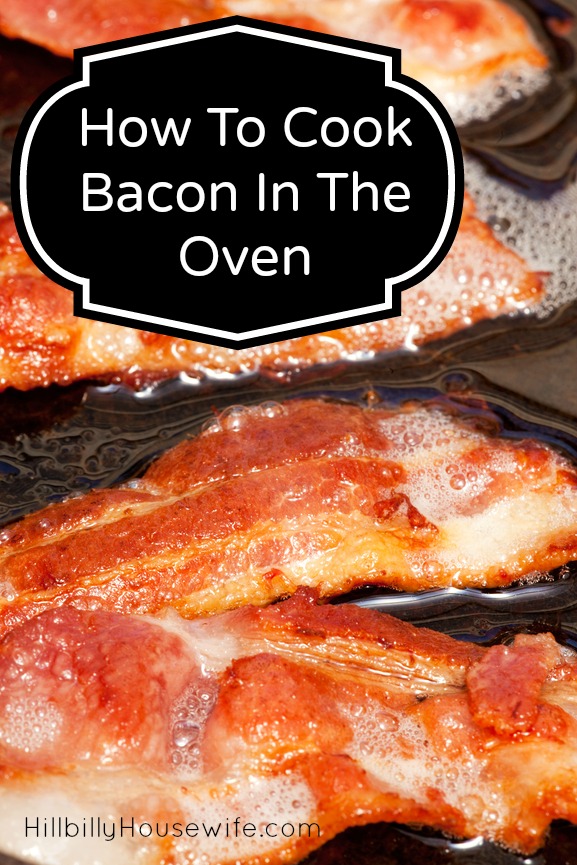 Disclosure: Some of the links below are affilate links, meaning, at no additional cost to you, I will earn a commission if you click through and make a purchase.