How To Carve A Turkey – Video Of Easiest Way To Deconstruct The Bird
When it comes to actually carving (or deconstructing) a turkey, there are many schools of thought.  I happen to like the method that Alton Brown from the Food Network uses.  It's simple and gives you a nice display of meat instead of a pile that looks like scraps.  Click on and take a look:

What did you think? He sure makes it look easy!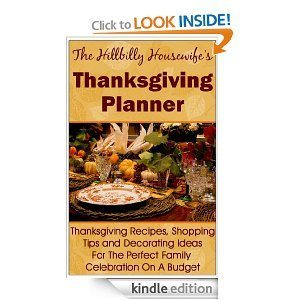 The Hillbilly Housewife Thanksgiving Planner
Don't run around like a chicken (or should that be turkey?) with its head cut off on Thanksgiving morning. The Hillbilly Housewife's Thanksgiving Planner will help you plan ahead and stay on top of things so you can actually enjoy Thanksgiving with your family & friends.
If you take a quick minute to read the first chapter you'll realize how easy your Thanksgiving celebration will be. There are plenty of tips and ideas to make sure this year's feast doesn't stretch your budget to the breaking point, too.
There are also 2 bonuses tucked inside: A printable planner & checklist and all of the recipes in a printable pdf file.
http://www.amazon.com/The-Hillbilly-Housewifes-Thanksgiving-Planner-ebook/dp/B00A81OQ56
Disclosure: Some of the links below are affilate links, meaning, at no additional cost to you, I will earn a commission if you click through and make a purchase.