Honey Mustard Dip Recipe
Since it's Football season (and Friday), I thought I'd share one of my favorite recipes from the "My Best Dip Recipes" cookbook with y'all today.
This dip is great with cut up veggies, but to be honest, I love it with some fresh baked pretzels.
Or try making up a batch to use as a chicken dip, add to your hot dogs, or go all out and make some pretzel dogs. Yum!
Honey Mustard Dip
Ingredients
1/4 cup spicy brown mustard
1/4 cup honey
1/2 cup mayonnaise
Salt and pepper, to taste
Instructions
Whisk together mustard, honey and mayonnaise in a small bowl until well combined. Transfer to a covered bowl and refrigerate for 1 hour before serving.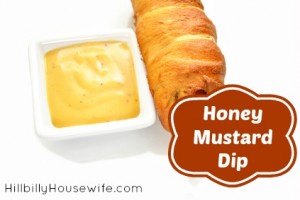 Ready for more delicious dip recipes? Take a look at the "My Best Dip Recipes" Kindle Cookbook for lots of yummy recipes including: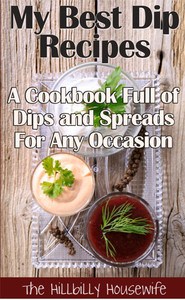 Artichoke and Spinach Dip
Bacon Cheeseburger Dip
Bacon Ranch Dip
Horseradish and Cheddar Spread
Cheesy Chili Dip
Creamy BLT Dip
Pumpkin Dip
 Queso Dip
Creamy Bell Pepper Dip
Cucumber Dill Dip
Shrimp Dip
Fruit Dip
Tuna Cheese Spread
White Pizza Dip
Disclosure: Some of the links below are affilate links, meaning, at no additional cost to you, I will earn a commission if you click through and make a purchase.