Homemade Zucchini Bread Recipe
One of the kid-friendliest ways to use up a bunch of zucchini is to "hide" it in a yummy breakfast bread like the one below. If you don't tell them, they'll never know it's got a nice serving of vegetables right inside the warm loaf of yummy breakfast bread. My husband even went so far as telling our daughter she could only have 1 slice for breakfast since it wasn't all that good for you… she gobbled it up and declared it was the best banana bread I've ever made.
The recipe is from "The Zucchini Cookbook" available on Amazon Kindle.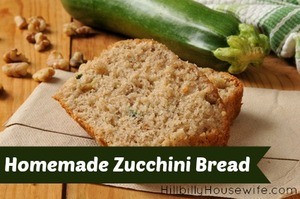 Homemade Zucchini Bread Recipe
Ingredients
3 large eggs, lightly beaten
1 1/2 cups sugar
3 cups all-purpose flour
3 cups shredded zucchini
1/4 cup coarsely chopped walnuts, toasted
1/3 cup canola oil
1/4 teaspoon baking soda
1 teaspoon ground cinnamon
1/2 teaspoon salt
1 teaspoon baking powder
1 teaspoon lemon rind, grated
2 teaspoons vanilla extract
Cooking spray
Instructions
Preheat oven to 350°. Grease 2 9×5-inch loaf pans.
In a bowl, combine flour baking powder, baking soda, salt and cinnamon in a bowl.
In another large bowl, beat eggs, canola oil, grated lemon rind, egg and vanilla extract until completely combined. Add zucchini, stir until well combined. Add flour mixture, stir just until well mixed. Fold in walnuts.
Divide batter evenly two loaf pans and cook for about an hour or until a wooden toothpick inserted in center comes out clean. Cool 10 minutes before removing from pans to a wire rack. Let cool completely on wire rack.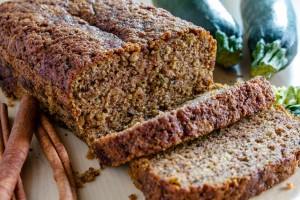 Disclosure: Some of the links below are affilate links, meaning, at no additional cost to you, I will earn a commission if you click through and make a purchase.