Homemade Vanilla Chai Tea Mix
I love Chai Tea and used to spend a small fortune at my local coffee shop. Next I found some premade mix at the grocery store, but it got quite pricey as well.
After some experimentation, I came up with this mix that tastes even better than the store bought stuff. Adjust the sugar to your liking.
From "Homemade Mixes" (Kindle Cookbook)
Vanilla Chai Tea Mix Recipe
Ingredients
2 1/2 cups white sugar
1 1/2 cups unsweetened instant tea
1 cup French vanilla powdered non-dairy creamer
1 cup powdered non-dairy creamer
1 cup nonfat dry milk powder
2 tsp. ground cinnamon
2 tsp. ground ginger
1 tsp. ground cardamom
1 tsp. ground cloves
1 tsp. allspice
1 tsp. nutmeg
1/4 tsp. white pepper
Instructions
[b]Directions:[/b]
Combine all ingredients in a food processor and blend until it is a fine powder.
[b]To use:
[/b]
Boil 1 cup of water or milk and add 3 tablespoons of mix, stir well.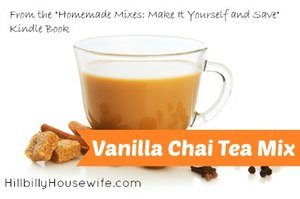 Disclosure: Some of the links below are affilate links, meaning, at no additional cost to you, I will earn a commission if you click through and make a purchase.