Homemade Red Velvet Cake Recipe
2 1/2 cups flour
1 1/2 cup sugar
3 tsp cocoa
1 tsp baking powder
3 eggs
1 cup buttermilk
1 1/2 cups vegetable oil
2ozs red food coloring
1 tbsp vinegar
Combine all dry ingredients and sift.Using your mixer, add eggs and buttermilk and mix for 2 minutes. Then add oil and food coloring followed by the vinegar and mix well.Grease and flour cake pans and fill with cake mix. Bake at 350 degrees for 40 minutes.
Red Velvet Icing:
3 tbsp flour
1/2 tsp salt
1 cup milk
1 cup shortening
1 cup sugar
2 tsp vanilla extract
1/4 tsp butter flavoring
Combine milk,flour and salt in a sauce pan and heat until it thickens (stir constantly) Remove from heat and cool.
Cream together shortening,sugar and flavoring. Place all ingredients together and mix well.
*If you prefer you can also buy ready make cream cheese icing from your local grocery store.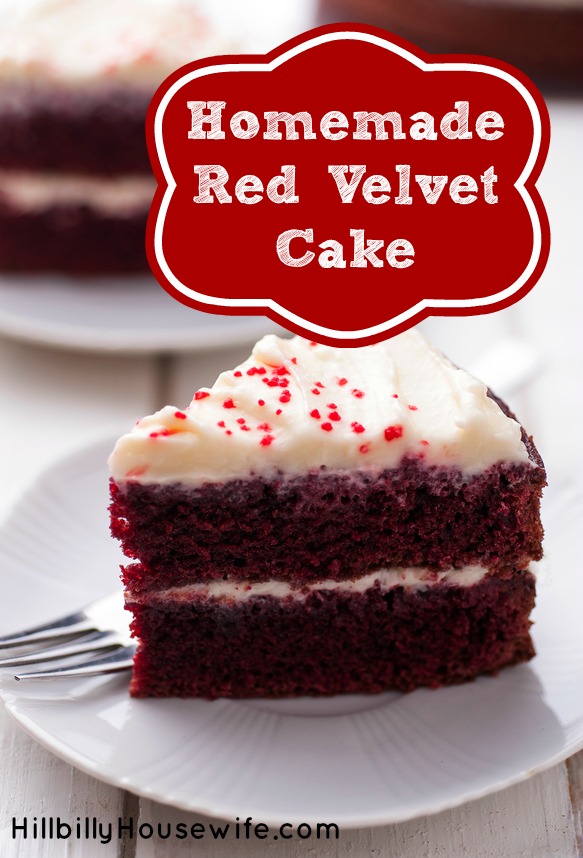 The Hillbilly Housewife Recommends – Dining On A Dime

The Dining On A Dime Cookbook is packed with over 1,200 money saving recipes and tips, kids tips and snack ideas, gift baskets, menus, food storage directions, Cleaning Cents and Pretty for Pennies. The recipes are easy to cook with ingredients that you probably already have in your pantry. To make shopping easy and economical, it also includes a pantry list and a shopping list.
Order your copy today at http://www.hillbillyhousewife.com/dime
Disclosure: Some of the links below are affilate links, meaning, at no additional cost to you, I will earn a commission if you click through and make a purchase.