Homemade Pizza Bread
We've had pizza bread for dinner around here for as long as I can remember. We've made it with toast, English Muffins, tortilla pizza etc. My  personal favorite though is French Bread Pizza. My friend Christine – The Menu Mom was kind enough to share this recipe with us.
French Bread Pizza
Prep time:
Cook time:
Total time:
Ingredients
1 loaf French bread
1/2 C pizza sauce
1-2 C shredded mozzarella cheese
favorite pizza toppings
Olive oil
Instructions
Preheat oven to 400 degrees. Slice a loaf of French bread in half, and arrange the halves on a cookie sheet. Brush a small amount of olive oil on each half of bread, and bake for 4-5 minutes until lightly golden.
Spread 1/4 C of pizza sauce on each half of the bread, and sprinkle each half with 1/4-1/2 C mozzarella. Arrange your favorite pizza toppings on top of the cheese. Top with remaining mozzarella.
Bake for 8-10 minutes until cheese is melted and bubbly.
For the pizza bread below I used some leftover spaghetti meat sauce and sliced up some roma tomatoes. These are great for using up left overs.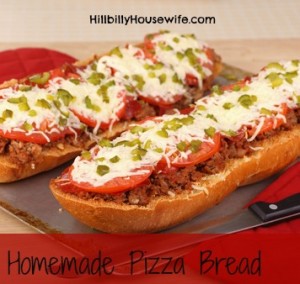 For even more quick and easy recipes, take a look at the Homemade Mixes Cookbook available on Amazon.
Homemade Mixes – Make It Yourself and Save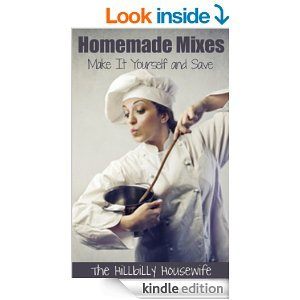 Making your own mix from scratch rather than buying it in the store not only saves you money but also saves you from all the additives and preservatives that are put in the foods we buy. The recipes include:
Apple Pie Spice Mix
Basic Muffin Mix
Brownie Mix
Caribbean Jerk Seasoning
Chocolate Chip Cookie Mix
Corn Bread Mix
Cream of Soup Mix
Fajita Seasoning
Fish Fry Coating Mix
Fruited Oatmeal Mix
Homemade Taco Seasoning Mix
Homemade Vanilla Chai Tea Mix
Disclosure: Some of the links below are affilate links, meaning, at no additional cost to you, I will earn a commission if you click through and make a purchase.