Homemade Peach Ice Cream Recipe
I picked up a basket of peaches this week and had quite a few extra ripe ones laying on the counter this morning. I made some delicious ice cream from and there's hardly any left in the freezer. If you've been looking for a good homemade peach ice cream recipe, this is the one to try. The key is to use very ripe peaches. They have just the right amount of juice and sweetness to them (and of course plenty of that yummy peach flavor).
Homemade Peach Ice Cream Recipe
2 1/2 pounds fresh, ripe peaches
1/2 cup sugar
2 cups half-and-half cream
1 (14 oz) can sweetened condensed milk
1 (12 oz) can evaporated milk
2 teaspoons pure vanilla extract
2 cups whole milk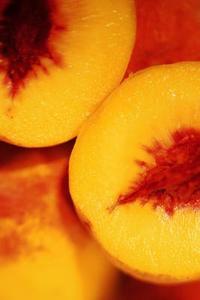 Start with the peaches. Peel them and remove the pits. Cut them into chunks and then blend them in a food processor or blender until you get a smooth puree. You can also mash them good with a fork if you don't have a blender.
Mix in the half and half. Stir in the remaining ingredients and pour the ice cream mixture into your machine. Follow the directions for your model to make the ice cream.
This makes about a gallon of ice cream mix. If you have a small machine or don't need as much ice cream you can either cut the recipe in half, or process it in batches. The frozen ice cream will last for a couple of weeks in your freezer.
For more delicious homemade icecream recipes, grab a copy of the Homemade Ice Cream and Other Frozen Treats ebook here.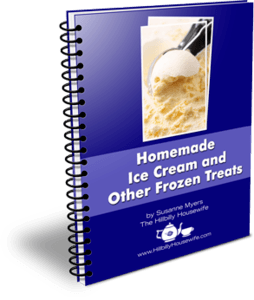 You'll find instructions for making ice cream with and without an ice cream maker and 100 recipes for ice cream, frozen yogurt, sorbet, sherbet and popsicles. Get your copy today!
Disclosure: Some of the links below are affilate links, meaning, at no additional cost to you, I will earn a commission if you click through and make a purchase.