Homemade Peach Cobbler Recipes
Homemade Peach Cobbler:
1 lg. can slice peaches (in heavy syrup)
1 cup sugar
1 cup flour
1 cup milk
1 stick butter
Mix flour and sugar in a mixing bowl. Add milk and stir well to get all the lumps out.
Spray a large casserole dish with nonstick spray. Pour the peaches (in their juice) into the casserole dish.
Place the milk, flour and sugar mix on top of the peaches. Cut small cubes of butter and place on top. Cook at 400 degrees for about 30 minutes or until crust is golden brown.
Homemade Peach Cobbler With Equal
If you are trying to eat healthy or are diabetic this may be a better selection for you. It has 33 % less calories and less sugar than a traditional peach cobbler. Not to mention, it tastes really great!
3 cans (15 ounces each) canned sliced peaches in light syrup, drained
2 tablespoons cornstarch
1 tablespoon lemon juice
1 teaspoon ground cinnamon
1/4 teaspoon salt
3/4 cup Equal
1 teaspoon vanilla
Pastry for single crust 9-inch pie
1 tablespoon Equal
1/4 teaspoon ground cinnamon
Drain peaches well and put them in a saucepan. Coat the peaches with cornstarch, cinnamon, salt and lemon juice. Let the peaches cook on medium heat until it starts to thicken. Turn off the heat and mix in Equal and vanilla and stir until it dissolves. Then pour into a baking pan.
Roll out a pie pastry onto a floured surface. Lay the pastry on top of the peaches and trim the edges. Cut a few slits in the pastry to let hot air to escape.
Combine 1 tbsp. Equal with 1/4 tsp cinnamon and sprinkle on top.
Bake at 400 degrees for about 30 minutes. Cool or serve slightly warm.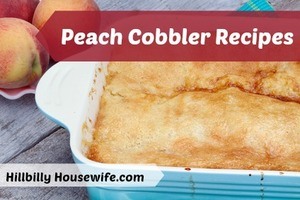 Recommended: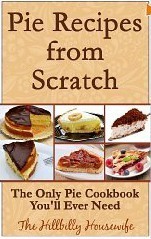 Ready for more baked good? Pie Recipes from Scratch-The Only Pie Cookbook You'll Ever Need.
Click on here and download your copy today and you'll be baking Blue Ribbon worthy pies before you know it!
Disclosure: Some of the links below are affilate links, meaning, at no additional cost to you, I will earn a commission if you click through and make a purchase.