Homemade Jelly and Jam Recipes on Amazon Kindle
I'm excited to announce the first in a series of HBHW Cookbooks that I am writing exclusively for Amazon Kindle.   Did I say excited?  I mean thrilled!
The reason I'm so passionate about Amazon Kindle is because it allows me to publish my recipe books at a price that's affordable for everyone.  If you're not familiar with Kindle, don't worry.  Scroll down and you'll find information about how to download the Kindle ebook to other devices, even your computer or laptop.  It's really quite simple once you know all your frugal e-reader options. Won't you take a moment and check out what my new Kindle book has to offer?
Homemade Jelly and Jam Recipes
This  is a collection of 35 tried and true family recipes for jellies, jams, fruit butters, and marmalades from the Hillbilly Housewife.
Made from fresh fruit and ingredients that YOU control, these recipes not only taste better than store bought, they also allow you the chance to create some hand-me-down recipes of your own.
Don't worry if you've never made homemade jellies and jam before.  You'll find a section in the book that covers the basics of jelly and jam making, along with helpful tips and a FAQ section that will cover just about every question you have.  This little ebook is designed to make the whole process simple and easy.
Want to get started right away but don't have all the equipment you need to can jelly and jam? No problem! The freezer jam recipes are easy to make and you don't need any special equipment.
Take a peek at just a few of the recipes you'll find inside: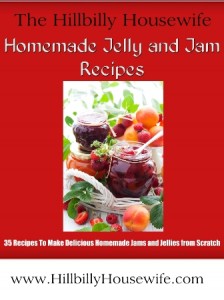 Strawberry Freezer Jam
    Grape Jelly
    Apple Jelly Made From Peels and Cores
    Red Currant Jelly
    Hot Pepper Jelly
    Peach Butter
    Apple Butter
    Orange Lemon Marmalade
    Fig Jam
    Strawberry Rhubarb Jam
    Apricot Jam
Click on and enjoy this fun and frugal Kindle ebook today!
As mentioned earlier, there are some who are puzzled about getting a book on Kindle. This is the question I've received repeatedly:
"I would love to read this, but I don't have a Kindle.  What do I do?"

Here's the good news. You don't need an Amazon Kindle. You can read the book on a variety of devices that have Kindle Apps. For example, there may be an app for your phone, iPod or iPad. You can get a full list of free Kindle apps here.
If you don't have one of those devices, you can still easily download my Kindle ebook right on your own computer or laptop.  You'll see right below the 'Buy' button the words "Available on your PC."  Click on and it walks you right through.  It's easy to read Kindle ebooks right on your computer via the "Cloud Reader". I've been using that one myself and it works like a charm.
With the list of affordable Kindle books growing by leaps and bounds, you can see why I was so excited to jump aboard.  I'm hoping to add quite a few of my own titles to that list over the coming weeks and months.
Won't you please take a look at Homemade Jelly and Jam Recipes?  I know once you see what this little Kindle ebook has to offer, you'll want to dig right in and start preserving your own jelly and jam!  Click on and order your copy  today!
Disclosure: Some of the links below are affilate links, meaning, at no additional cost to you, I will earn a commission if you click through and make a purchase.