Homemade Fabric Softener
There is no need to spend a bunch of money at the store on regular fabric softener. All you need is a bit of baking soda and vinegar. In fact, vinegar is the perfect homemade fabric softener.
Use plain white vinegar and add 1/4 cup to the final rinse of your laundry. By the time your clothes are dry the vinegar smell will be gone.
To make everything even softer, add about 2 tbsp of baking soda to your laundry when you first put it in the washer, then use the vinegar in the rinse as mentioned above.
If you are a little worried about the smell, use this simple recipe instead:
Homemade Fabric Softener
2 cups cheap hair conditioner
3 cups white vinegar
6 cups warm water
Pour everything into an old fabric softener bottle or other container and mix well. If you are using a bottle, just give it a few good shakes.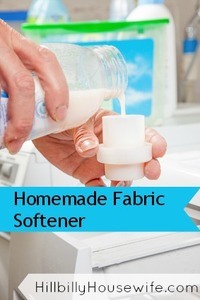 Disclosure: Some of the links below are affilate links, meaning, at no additional cost to you, I will earn a commission if you click through and make a purchase.