Homemade Eggnogg
I love a glass of eggnog (or two) around the Holidays. It's such a fun, festive and delicious drink. Yes, you can buy a carton at the store and just add a little bourbon to it, but there is just no comparison to the homemade stuff.
Making your own eggnog is surprisingly easy. The most crucial part is finding good eggs to use. Since the eggs are consumed raw, do your best to find fresh eggs. I use farm fresh eggs that are less than a few days old whenever possible. I also wash the raw eggs (in the shell of course), with soap and hot water before cracking them open.
Consuming raw or undercooked  eggs may increase your risk of foodborne illness, especially if you have certain medical conditions.
While you can't completely avoid the risk of contamination, getting the eggs from a good source and washing them will greatly reduce that risk. Use your own best judgement if it's worth the risk to you or not.
Serving your homemade eggnog in moose mugs is of course completely optional 😉
Eggnog Recipe
4 egg yolks
1/3 cup sugar, plus 1 tablespoon
1 pint whole milk
1 cup heavy cream
3 ounces bourbon
1 teaspoon ground nutmeg
4 egg whites
Beat the egg yolks until they lighten in color. Gradually add 1/3 cup sugar and continue to beat until it is completely dissolved. Add the milk, cream, bourbon and nutmeg and stir to combine.
Place the egg whites in a separate bowl and beat to soft peaks. With the mixer still running, gradually add the 1 tablespoon of sugar and beat until stiff peaks form like a meringue. Whisk the egg whites into the mixture. Chill and serve.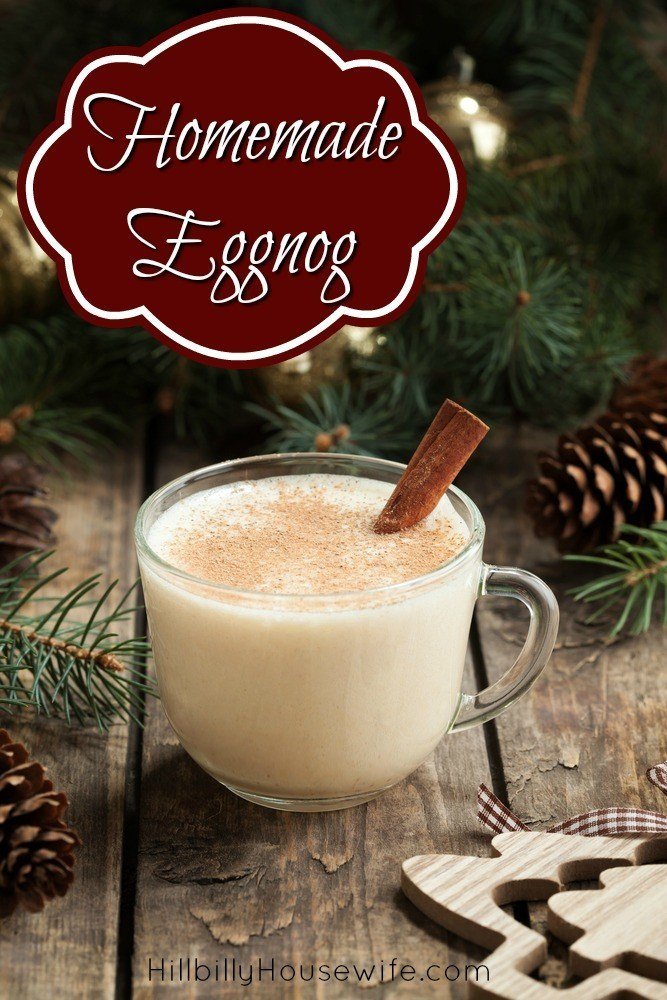 Disclosure: Some of the links below are affilate links, meaning, at no additional cost to you, I will earn a commission if you click through and make a purchase.