Homemade Cranberry Bread
Do you have some fresh cranberries left from Thanksgiving? Or maybe you were able to grab a bag at the store on sale this week. Why not use them to make this delicious cranberry bread. of course you could also use some frozen and thawed berries or even some dried cranberries that have been plumped up in the orange juice the recipe calls for. Either way it's a yummy recipe that's perfect for Sunday morning, to give as a holiday gift, or to have on hand in case unexpected guest arrive.
You can also double the recipe and make two breads. Enjoy one right away and let the other one cool and freeze it for Christmas morning. Just thaw it out overnight and stick it back in the oven for a bit to warm up.
Cranberry Bread
Ingredients
2 C. All Purpose Flour, Sifted
1 C. Sugar
1 1/2 C. Golden Raisins
1 1/2 C. Cranberries, chopped
3/4 C. Orange Juice
1/4 C. Butter
1 Egg, beaten
1 1/2 t. Baking Powder
1 t. Salt
1 t. Orange Zest
1/2 t. Baking Soda
Instructions
Preheat the oven to 350 F.
Prepare one 9x5x3 inch loaf pan by spraying with nonstick cooking spray.
In a bowl, mix the flour, sugar, salt, baking soda and baking powder together.
When the mixture is well blended, add butter until it is crumbly (the mixture).
Next, add the orange zest, egg, and orange juice. Mix well.
Then, gently fold the raising and cranberries into the mixture.
Finally, pour mixture into the prepared loaf pan and place in the oven for roughly 70 minutes, or until done. Do not over bake and let cool on a wire rack before serving.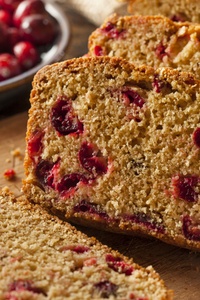 Would you like to steer clear of the holiday shopping crowds? You can with this guide to Homemade Christmas Gifts and More.

Making Homemade Christmas gifts is one way to actually enjoy the process of gift-giving. Not only are homemade gifts and decorations frugal, they're more fun!

We don't have to rush out to the mall to shop for Christmas when we have ideas for creating gifts right at home. Take time to enjoy your holiday season. Click on and download now to start planning your frugal AND fun Christmas.
Disclosure: Some of the links below are affilate links, meaning, at no additional cost to you, I will earn a commission if you click through and make a purchase.