Homemade Chocolate Pie
Yum, is there anything better than a nice slice of homemade chocolate pie for dessert when you have a hankering for something chocolate? If you ask me there isn't so it's about time I shared one of my favorite pie recipes. Enjoy!
Homemade Chocolate Pie Recipe
2 cups sugar
1 cup flour
5 eggs (separate yolks and whites)
3 tbsp cocoa powder
12oz can of evaporated milk
1 tsp vanilla extract
5 cups water
2 baked pie crusts (recipe makes 2 pies)
I usually start this pie by making a recipe of my double pie crust and baking them. It helps to weigh the pie crusts down with another pie pan filled with beans. If baking pie shells is not your thing, you can of course use a prebaked one, or even a graham cracker crust.
While the pie shells cool, let's make the filling. You will need a large pot and a metal bowl that fits into the pot. If you happen to have a double boiler, you can of course also use it. Put some water in the pot and bring it to a boil over medium to medium high heat. Add the metal bowl and while the water simmers away, add the sugar, egg yolks, flour,  cocoa, milk and vanilla. Stir everything together really well and keep whisking away until the mixture begins to thicken. You are basically making a chocolate custard here. Pour the mixture into the pie crusts.
Now it's time for the topping. Beat egg whites with 1/2 cup of sugar until light and frothy. Spread on top of pies and bake at 350 degrees until pies are light brown.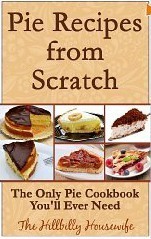 You'll find even more recipes tips, along with FAQ's covering all sorts of reasons why a pie may have failed, in my Kindle book: Pie Recipes from Scratch-The Only Pie Cookbook You'll Ever Need.
Click on here and download your copy today and you'll be baking Blue Ribbon worthy pies before you know it!
Disclosure: Some of the links below are affilate links, meaning, at no additional cost to you, I will earn a commission if you click through and make a purchase.