Homemade Chocolate Chip Cookies
This is my favorite cookie recipe. How could you not love something that's full of butter, brown sugar, vanilla and of course plenty of chocolate chips. I hope you bake up a batch of these homemade chocolate chip cookies for your own family this week. Before you know it they'll be baking in the oven and the smell of freshly baked cookies will waft through your home. Who needs scented candles and air fresheners when you can have that?
I make a batch of these for our cookie jar at least once every two weeks. They always turn out great and are a family favorite. Perfect for after-school snacks, lunch boxes or as a simple weekday dessert. Of course for us adults they also go really well with a cup of coffee after you drop the kids off at school.
From the Weekday Cookie Recipes Kindle Cookbook
www.HillbillyHousewife.com/cookiebook
Easy Chocolate Chip Cookie Recipe
Ingredients
2 sticks butter
1 cup brown sugar
1 teaspoon vanilla
2 cups self-rising flour
1/2 teaspoon salt
1 cup semi-sweet chocolate chips
Instructions
Preheat oven to 350 degrees.
In a medium sized bowl, mix together the butter, sugar and vanilla until well blended. In another bowl whisk together the flour and salt. Add to the butter mixture and mix well. Stir in the chocolate chips.
Drop by spoonfuls onto an ungreased baking sheet and bake for about 20 minutes.
© 2023 Copyright www.HillbillyHousewife.com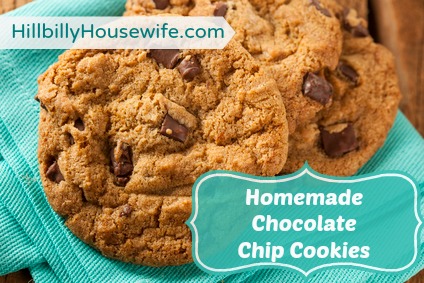 This chocolate chip recipe is from the HBHW Kindle Cookbook below:
Weekday Cookie Recipes – When You Need Something Sweet Any Day of the Week
Cookies are good any day of the week. But sometimes it takes too long to throw a batch together during the weekday. That's where these cookie recipes come in handy – they're quick, easy, and some only require two ingredients.
Here's are some of the cookie recipes you'll find inside:
Chocolate Chip Weekday Cookies
Peanut Butter Weekday Cookies
Oatmeal and Cranberry Spice Cookies
Coconut Cookies
Cinnamon Roll Cookies
Flourless Chocolate Nut Cookies
Marshmallow Cookies
Nutella Cookies
Chocolate Puddle Cookies
4 Ingredient Weekday Cookies
Disclosure: Some of the links below are affilate links, meaning, at no additional cost to you, I will earn a commission if you click through and make a purchase.